The highways industry is sensing a chill in the market with key voices raising the alarm that irreparable damage could be done to a sector already starved of the right skills and personnel.
After years of stop and start funding, the Government had made moves since 2015 to put both the strategic road network (SRN) and the local road network on a firmer financial footing.
However many are now warning the funding doesn't seem to be as secure as expected and work is not coming through.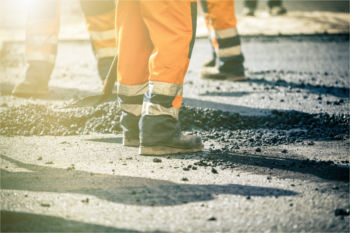 Sources say growth is stalling or actively going into reverse in some areas of the supply chain, while major players have lamented that the expected pipeline of business filtering through from the emergence of Highways England in 2015 has not been delivered as promised.
A range of issues have combined to scare the markets, including the ongoing paralysis of Brexit uncertainty and public sector austerity, a lack of lending from banks to the infrastructure market, large debt levels on balance sheets, slow turnover rates, over-exposure in low margin or loss making areas, and the recent example of other companies collapsing or teetering on the edge.
Best of times, worst of times
When Highways England was launched it promised an £11bn capital programme from 2015/16 to 2020, with the Government having earmarked £15bn of funding until 2021 for road upgrades in England – granting the body a rollover year.
However following a reprofiling of the delivery plan, around 10% of the schemes on Highways England's original 2015-2020 programme have been kicked into the long grass as they do not provide the necessary return on investment.
And around a third have been pushed back into the second Road Investment Strategy (RIS) period, 2020-2025.
This spring Highways England's Jim O'Sullivan said of the original 112 schemes, 29 have been completed, 15 are in construction, 18 are expected to start this year and 37 now start in RIS 2 – 'and 11 we revisited and the return on investment just wasn't good enough'.
Many might be looking forward to the second road investment strategy (RIS 2), which is thought to increase spending to £25.3bn for 2020-25 and the £3.5bn for the major road network over the same period.
Bread and butter
However it is also the bread and butter of the industry that is feeling the pinch.
Bitumen sales is perhaps the best indication of how the sector is growing. Dave Foster, business manager for Shell Bitumen UK and Ireland, told Highways: 'We were expecting demand to be more significant than what we are seeing. We were expecting year on year growth [since 2015].
'We have seen a little bit of growth in strategic road network but a fall in local roads. It's difficult to say why, whether Brexit is impacting investment in construction. For investment you need confidence but I don't know whether you can use Brexit to explain this.
'Clearly there is an element of austerity still in the local networks. Funding is always a challenge. There is work going on in government on the capitalisation of funding. What we were expecting we haven't quite seen in terms of volumes. We think it is on its way but we thought it was on its way last year.'
One senior source at the Vehicle Restraint Manufacturers Association (VRMA) told Highways the current outlook was bleak and called on major highway authorities across the UK to take action.
'The last few months the market has gone into reverse. The association estimates it could be as much as 40% down last month. This is the worst quarter in the last 15 years.
'We were expecting a modest increase of 20% in local highways and the SRN over recent years. If the forecast work actually comes through there is plenty for everyone the worry is the impact the lack of work could have.
'It is especially difficult when you work in a niche market and niche manufacturing, when business goes flat you have nothing to fall back on.'
The source pointed out that last time the sector cut back after the financial crisis there was a major skills drain. Some from the public sector moved into the private sector but if they now find little work in industry they could leave for good.
Highways is well known to have an ageing workforce and if people lose their jobs in their 50s and 60s they may not choose to find new work, leaving even greater gaps in the skills coverage that is unlikely to be replaced due to the lack of people coming through the ranks.
This is especially true of the public sector, with key skills in areas such as safety appearing to be dying out in some areas of local authorities. Senior figures have been bemoaning for some time the loss of the 'intelligent client'.
It is also being felt in the area of research and development. The industry source said big manufacturers were cutting back on the vital research to develop products and innovations that could improve productivity, adding that some businesses are considering 'stopping making stock, so they can sell what they have to keep up cash flow'.
Mike Ashworth, chair of the ADEPT transport board, told Highways he recognised the concerns and added in his own authority of Derbyshire and in the wider Midlands area they have 'spent a lot of time setting out a responsible pipeline of work'.
'Working with LEPs as well, we have done our best to provide a responsible guide as to what might be coming through.'
Another senior source in industry did concede that there were major challenges but added there were also silver linings to the highway sector's position.
They argued that there are always economic cycles and highways is somewhat sheltered from the worst of the current uncertainty as Highways England has a budget until at least 2021 and is likely to see big investment come RIS 2, while the local roads funding is also earmarked until next year and could even secure a five-year settlement of its own.
They did warn however that some of the major Tier One contractors are pulling away from the maintenance market and only looking for major project works, where they can secure bigger margins. They argued this presented a concern to the sector not just in terms of business but in terms of value for money for public investment, with the private sector offering good value for tis maintenance.
Promises must be delivered
For those who remember clearly the messages coming out of the DfT some five years ago, this will all seem a dispiriting situation.
The industry was promised work and was told to gear up for it. The very reason why the DfT wanted to create Highways England and establish as much as possible a five-year settlement for local roads was to end the inefficiencies of stop start cash flows, which everyone agreed was bad and costly strategy over the long-term. MPs on the transport select committee have within the last two weeks once again reinforced this message with a call for more long-term funding for the sector to help it plan.
There may be uncertainty in the wider economy, but the value of a well maintained road network has not and will not change. It would be a cruel twist of fate if wider political confusion were to blight the chances of this most sensible and straightforward of public priorities.
It would be an even crueller situation if all the good intentions and promises the DfT made to the sector in the past – of greater growth and calls for industry investment in capacity – were to wither on the vine and end up actually costing business and the taxpayer much, much, more in the long run for being unfulfilled.
The Government must stay the course and ensure the flow of work is kept going to support the supply chain and deliver the efficiencies and greater value the country was promised.