The race to secure a £1bn contract to build the Silvertown Tunnel project in east London has narrowed to just two bidders after a joint venture between Skanska and Austrian outfit Strabag withdrew.
Transport for London (TfL) has no plans to replace that JV so the only bids left on the table are from German firm Hochtief and Cintra Global, which is a subsidiary of Amey's owner Ferrovial.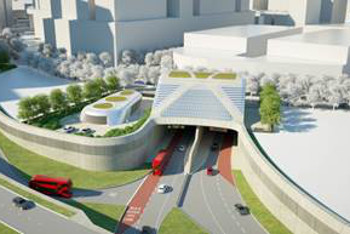 A TfL spokesperson said: 'The Skanska Strabag consortium have informed us that they have withdrawn from the bidding process to deliver the proposed Silvertown Tunnel.
'The procurement process continues with the remaining bidders and we are on track to award the contract early next year, subject to the DfT [Department for Transport] reaching a decision on our Development Consent Order application, which is due by the 10th of May 2018.'
The contract covers design, build and maintenance and work is scheduled to start on site in 2019 and be complete by 2023.
After the tunnel opens, the winning consortium will also maintain the tunnel and both Hochtief and Contra have extensive experience of these types of concessions, particularly in Europe.
Skanska were contacted for a comment on their withdrawal but had not responded at time of publication.