Bath and North East Somerset (B&NES) Council has upgraded its winter maintenance fleet with eight new spreaders from Aebi Schmidt.
The unitary authority has opted for seven Mercedes-Benz 18T Arocs 4x4 1832 Stratos III 6m3 gritters and one Mercedes-Benz 26T Arocs 6x6 3340 Stratos III 9m3 gritter.
The new gritters will be operated by VolkerHighways, under its highways term maintenance contract with the council, which includes winter maintenance.
Craig Jackson, the council's highway maintenance and drainage manager, who led the tender process, said: 'We have been very impressed with the build quality of the Schmidt machines, which we specified with the latest Euro6 compliant Mercedes chassis and four and six-wheel drive.
'We have already used them on a number of runs so far this winter, and so far so good. We expect them to be active now right throughout the winter season.'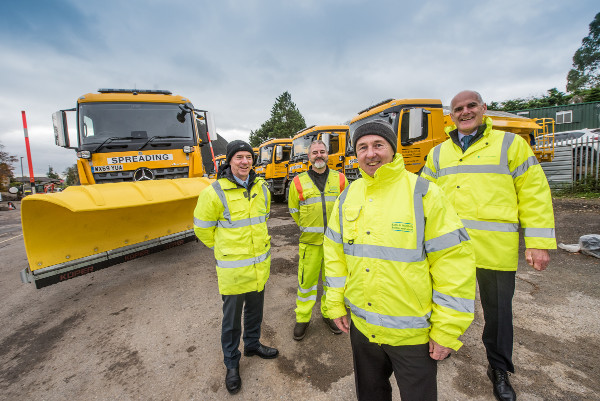 Gary Peacock, deputy group manager highways and traffic, B&NES; Chris Young, Volker Highways, Kelvin Packer, group manager highways and traffic, B&NES; Craig Jackson
Aebi Schmidt said the Stratos III has been designed for ease of maintenance and low costs.
It also highlighted that the machine spreads accurately and uses a closed-loop hydraulic system to operate the conveyor belt and the spinner independently of each other.
The spreader uses an Evolution Smart (ES) control panel, which monitors the machine at a rate of 2,000 times per belt revolution and makes continual adjustments at 100 times per second to maintain accuracy.
The ES control panel also integrates with the Schmidt AutoLogic system, an automatic spreading system with GPS-guided routing, which B&NES has selected for all its new machines.
The GPS navigation guides the spreader driver along the correct route and the spreading settings occur automatically, enabling the driver to concentrate on traffic.
B&NES has also selected the Schmidt Winter Report, a web-based telematics system that shows where the spreaders movements in real-time. It is fully integrated with the ES control panel, requires no other hardware or software.
The council is responsible for gritting 263 miles across nine different routes out of a total of 683 miles, some 38% of all roads, with a huge variety of adopted surfaces to treat, ranging from the centre of the heritage city of Bath to A-class and B-class country roads and some remote rural roads.
It went out to tender under a framework agreement and then decided to purchase the new equipment outright, rather than lease it.