Earlier this year, the Association of Directors of Environment, Economy, Planning & Transport (ADEPT) published its policy position on active travel. Mark Kemp, chair of ADEPT's Transport and Connectivity Board, explains more about the policy position and how active travel is a vital component of the transport solution.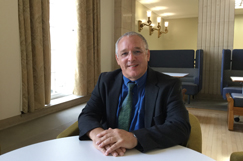 Active travel is defined as 'non-motorised forms of transport that involve physical activity, such as walking, cycling and manual scooting' (1). It can also include public transport for longer distance trips as these generally involve walking or cycling components.
It has been described by the Committee on Climate Change (2) as an 'essential element of the transition to a net zero carbon economy, by reducing greenhouse gas emissions and improving air quality'. It is hugely beneficial to the environment, but also generates health, economic and social benefits; can contribute to improved wellbeing and help to prevent or manage a range of chronic health conditions. It can also contribute to economic performance by reducing congestion.
Following the climate change emergency declarations made by local authorities, ADEPT began working on an Active Travel policy position at the end of 2019, together with stakeholders including Public Health England, Association of Directors of Public Health and Sustrans.
A few months later, social distancing measures introduced as a result of COVID-19 resulted in changes to how we travel, with unprecedented levels of walking and cycling across the UK. This change to how we travel created opportunity and meant our policy position document was even more pertinent.
At ADEPT, we are keen to continue the trend of active travel. It is a top priority for policymakers and planners, given the contribution it can make to the quality of place and the health of the community. For our transport networks to be fit for the future we all need to choose the most appropriate method for the journey we are making. The use of active travel needs to increase significantly, particularly for the first mile/last mile elements of our journeys.
During lockdown, local authorities introduced new measures to enable social distancing in areas with a high footfall and narrow footpaths, which both supported the economic recovery and showed communities how such places could be made more accessible.
Measures have included reduced waiting times at pedestrian crossings, installing temporary roadways and signage, and re-allocating road space seeking to make active travel feel safer and more convenient.
ADEPT recognises that there are barriers to sustaining these levels of active travel. As social distancing measures are relaxed, and as life returns to 'normal', people are likely to revert to their previous modes of travel. Encouragement and behaviour change is needed to help people change embedded habits and attitudes to travel.
This means local authorities need to develop their promotion and training work, to encourage the public to select active travel more often. This will include working with behavioural change experts to help people make the appropriate travel choice for the journey they are making.
If we are to meet the 2050 climate target, we need to embrace active travel as a valid journey option – we cannot rely on the emergence of electric and hydrogen powered vehicles alone. Active travel remains the most sustainable transport option and will make a critical contribution to climate targets.
Funding is another challenge. The Government announced significant funding for active travel and recently the Department for Transport announced the second part of the 'Transport Active Travel Fund', which will see a further roll-out of innovative initiatives that seek to promote and support active travel.
However, local authorities need to ensure they can fully utilise this funding by working with partners, stakeholders and communities to understand priorities, identify flaws in existing travel networks, and deliver new infrastructure where required.
The Government also need to play a central role going forwards by championing active travel and providing leadership at a national level. Both capital and revenue long-term funding will be needed to enable local authorities to undertake behavioural and promotional work, alongside developing, delivering and maintaining the supporting infrastructure.
Embedding active travel into our transport network is essential not only for our economic recovery, but also to environmental recovery and sustainability. We need to act now, to ensure active travel remains at the heart of the transport solution.
The Active Travel policy position can be found on the ADEPT website: https://www.adeptnet.org.uk/documents/adept-policy-position-active-travel
1. https://www.adeptnet.org.uk/documents/adept-policy-position-active-travel
2. https://www.theccc.org.uk/publication/behaviour-change-publicengagement-and-net-zero-imperial-college-london/