Costain has agreed a settlement with the Welsh Government over changes to its contract for a major widening of the A465 but declined to confirm the exact value.
The two sides first agreed a deal valued at £159.5m in 2015 but the project has been dogged by complex engineering issues, resulting in costs and timelines spiralling.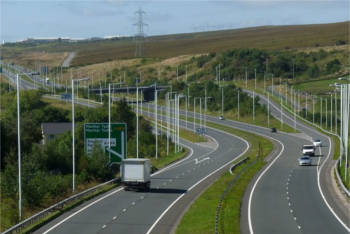 In April 2019, the Welsh Government confirmed that an extra £54m was needed to complete the works, which took the cost of the project to £321.1m.
Since then Costain revealed it had written off £45.4m in its results for the first half of last year and the suggestion is the latest settlement is of a similar amount.
'The financial terms of the Settlement are in line with the provision made by the Group for the year ended 31 December 2020,' said Costain in a statement to the Stock Exchange.
'As a result of the Settlement, the Company has certainty of the final account sum payable by the Welsh Government to the Company, including further milestone payments.'
However it is unclear if costs could rise yet further as 'Costain continues to be responsible for the delivery and the management of associated project risks for the remaining works, which are scheduled to be completed this September,' the contractor added.
The scheme comprises widening an 8-km stretch of the A465 between Gilwern and Brynmawr near the Brecon Beacons. Problems and changes on the project included the discover of asbestos at Brynmawr and the addition of an extra junction.
A Welsh audit office report published last February suggested the scheme would finish in April 2021 but that target will not be met.