A UK firm has launched a new method of tackling toxic pollution from road vehicles, using pods submerged in the centre of the road.
Pollution Solution said its technology helps authorities achieve public clean, safe and legal air quality during the transition to 100% electric motorised vehicles.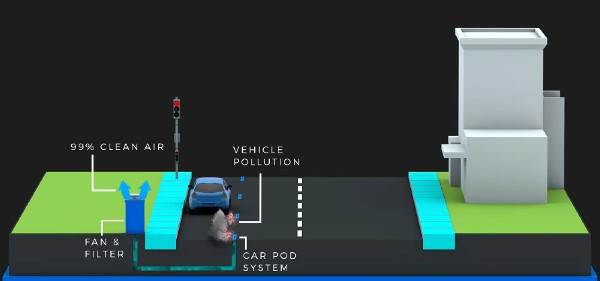 Picture source: Pollution Solution
The technology involves a series of partially submerged pods installed in the centre of the carriageway where there is slow moving, and or stationary traffic, creating pollution hotspots. The pods are connected under the surface to pipework which extracts the polluted air into a roadside cleaning unit.
The firm said the air that leaves the roadside unit is 'cleaned to a rate of 99%', removing particulate matter ( PM1 - PM10 ) along with a range of harmful gases including nitrogen oxides and carbon monoxide.
It added that pods, which look like road studs, can also be used for lane delineation.
The firm's founder, Thomas Delgado, said: 'This is only going to be effective at busy junctions but all the information we have is that those hotspots are the areas that really need to be tackled.
'There are talks of banning the sale of fossil fuelled vehicles by the year 2040 but if we don't take steps in the interim it is inevitable that people will die unnecessarily.'
The firm says the technology can run fully or partly on solar power.
It says installation is quick and economical. Shallow channels are cut into the carriageway to allow pipework to be laid, just 500mm under the surface. These channels can then be re-covered with asphalt in as little as an hour once air flow testing is complete.