A local authority has launched a new Highways Design Guide to encourage developers to build new roads to an adequate standard.
Telford and Wrekin Council said the guide's purpose is to ensure that the design of new roads meet the needs of residents, visitors and road users in the future.
It said Telford has seen some of the largest housing estate and commercial development in the country in recent years 'and many lessons have been learnt in terms of what has been successful when delivering new development'.
The council said the guide 'aims to build on these lessons and help to ensure that new development designs and delivery terms are right first time' adding that this 'will negate the additional time and cost of redesigns and help to avoid construction work being aborted'.
The guide is for guide is for developers, landowners and property managers, architects, engineers, surveyors and designers, local planning authority, and 'all others involved in the design and construction of new residential and commercial developments'.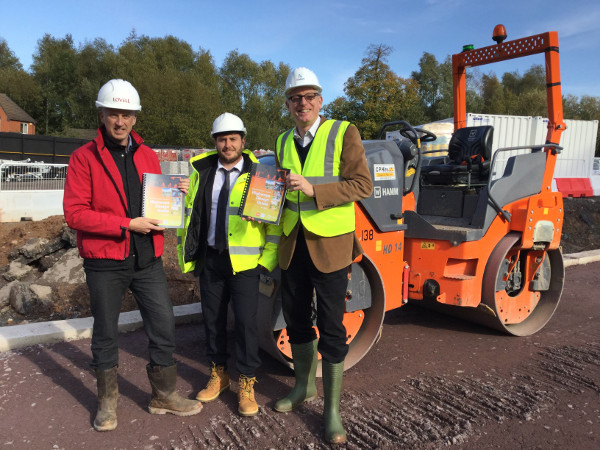 Rob Goodall of Lovell; Nick McGurk, Telford and Wrekin's highways development manager; and Cllr Wright
Cllr David Wright, cabinet member for highways, transport and infrastructure, said: 'The highways network serving new residential and commercial developments in Telford should strive for excellence in design quality.
'It should also be beneficial to all and improve the quality of life for all those that use our transport network, whether they live here, work here or are visiting our borough. It is not intended to give definitive or prescriptive design advice and should be consulted in conjunction with other relevant guidance.
'It is intended to place greater emphasis on the development of low maintenance, innovative proposals by using new ways of thinking and different methods of approaching both design and construction.'
The council described the document as 'very much a live and evolving document that is open to revision and further development as new working methods, technologies and wider highways and planning guidance change'.
It added that it is to be used in partnership with Manual for Streets, Manual for Streets 2, the Design Manual for Road and Bridges and The Specification for Highway Works.