A senior county councillor is in discussions with Highways England about removing traffic lights from two major junctions in Hereford as a step towards making the whole city traffic light-free.
Cllr John Harrington, cabinet member for infrastructure and transport at Herefordshire County Council, told Highways that the move is linked to the council's recent decision to pause two major road schemes on the outskirts of the city.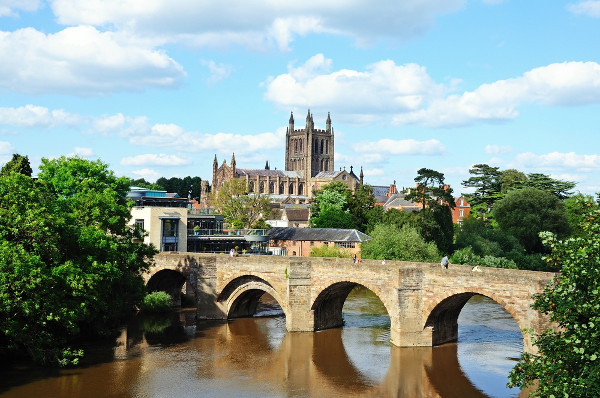 He said that during the summer he had raised with Highways England the prospect of removing traffic signals from two roundabouts the A49 on the strategic road network, known locally as the Asda and Tesco roundabouts.
The government-owned company responded positively and suggested discussing the options more formally this month, he said.
The council has a new coalition administration, with Cllr Harrington representing the 'It's our county' party.
He told Highways that Highways England's positive approach disproved comments from opposition councillors that the council would not be able to influence what happens on the A49.
However, he said that, whether or not the proposed changes to the two junctions went ahead, he hoped to remove traffic lights from other junctions in Hereford, which he saw as having increased congestion, despite no increase in traffic volumes.
'I'd love us to be a traffic light-free city,' he told Highways.
However, he added that he did not intend to remove pedestrian light controlled crossings, which he saw as important for blind people and people with other disabilities.
Cllr Harrington said that the paused road schemes, which would eventually create a full bypass for the city, were not expected to ease congestion, but that he expected removing traffic lights to do so.
He said that prior to the installation of traffic lights the Asda roundabout, where the A49 meets the council-owned A465, previously had traffic queues caused by the need to give way to vehicles to the right.
Rather than revert to conventional roundabouts, he would like the two junctions to adopt a layout similar to that in Poynton,Cheshire, where a roundabout has priority removed and traffic moving instead on a first-come-first-served basis.
Poynton is also the location for a controversial 'shared space' scheme, where other traffic management features, including pedestrian lights, have been removed.
If agreed, the change would be tested first through a microsimulation and then a trial in which traffic lights were turned off and hooded prior to their eventual removal if the scheme is successful.
Cllr Harrington conceded that his plans are not currently the council's policy but said that he expected them to become so shortly.
Highways England head of service delivery Andrew Butterfield said: 'Highways England is in regular liaison with Herefordshire Council as to how we jointly manage traffic and is happy to discuss this proposal further.'
Media reports suggest that Highways England has previously rejected the idea of removing traffic lights from the Asda roundabout, also known as the Belmont junction.