Councils have 1.4 million tonnes of salt stockpiled in preparation for winter, and have an average of nine full-size gritters each, a new survey has revealed.
The Local Government Association (LGA) found that 94% of councils have either more salt or the same level as last year.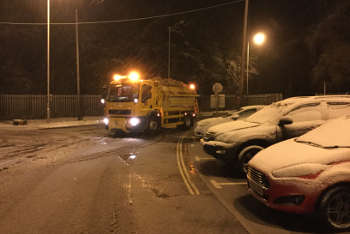 The annual Winter Readiness Survey also found more than half (55%) of councils will share salt stocks, 30% will share gritting machinery, and one in five (22%) plan to team up across their boundaries to send staff to key locations.
Cllr Martin Tett, the LGA's transport spokesman, said: 'Winter preparation is a key priority for councils, despite ongoing funding pressures and competing demands on their limited resources. Across the country, local authorities have again risen to the challenge and already put measures in place to protect their residents from floods, ice, and wintry conditions.
'Councils are constantly monitoring the weather, with up-to-the-minute reports to stay one step ahead. Depots are filled with 1.4 million tonnes of salt and gritters are ready to be deployed instantly to make sure our local roads are clear and open to our residents where possible.'
This story first appeared on our sister publication LocalGov.