The country's leading manufacturer of winter maintenance equipment has unveiled a towable trailer that can precision spray liquid de-icer for over 100km before needing a refill.
Econ Engineering said its 'innovative' towable trailer liquid de-icer spreader (TTLDS), which has been designed and manufactured at its North Yorkshire headquarters, is quickly and easily attached to any 4x4, plant vehicle, or even a quad bike with a two-tonne towing capability.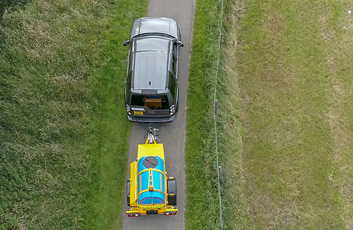 The firm pointed out that, unlike rock salt, which needs to be broken down either underfoot or under wheel before it starts to melt ice and snow, the liquid de-icer gets to work immediately.
As well as delivering the liquid de-icer from rear and side facing precision nozzles, it also has a hand lance for use on steps and other hard to reach areas.
Director Andrew Lupton said the 900-litre tank dispenses of the need for a back-up vehicle.
He said: 'For more than 50 years we have been a leader and innovator in gritting and winter maintenance operations, and we are delighted to be able to add our Econ TTLDS to our product range.
'The demand for cycle routes across the UK, and the announcement that £85m has been earmarked for 200 new sections, has been a key driver in Econ developing, manufacturing and now launching it.
'In addition to public footpaths and cycle paths, the Econ TTLDS's size and portability makes it ideal for school and university campuses, business parks, and hospital estates.
'Winter is just around the corner, and with an Econ TTLDS, councils, highways authorities and estate managers will be well prepared.'
Econ said it manufactures more than 80% gritters used on Britain's roads.