The GATEway project to study how people react to automated vehicles has published the full research and findings from its three-year programme of trials, with suggestions for new areas of research for the future.
The project said it had 'undoubtedly' helped to advance the UK's position in the automated vehicles revolution, adding that the proven safety case framework and the rich databank of consumer insights it generated have already been utilised on a number of related automated mobility projects, with datasets available for others to exploit.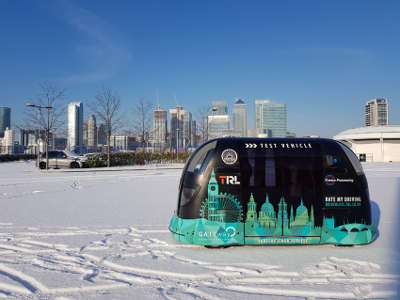 GATEway was led by TRL and jointly funded by government and industry.
TRL CEO Rob Wallis said: 'Working with our partners, GATEway has created an invaluable wealth of knowledge, experience and evidence-based research on how to develop and test new technology and business models.
'GATEway has provided the strongest foundation for us to now move forward and continue to realise the potential of integrated mobility solutions. GATEway was just the beginning. At TRL we are looking forward to continuing this journey through the Smart Mobility Living Lab: London.'
The project said that its research provides 'unique insights' into areas such as:
Public perceptions of automated vehicles and the types of services they would like to see delivered
The benefits that can be delivered through new mobility services, such as shuttle services, automated deliveries and remote operation, and the part they could play in cities of the future
Understanding how driver behaviour will adapt to automated vehicles through advanced simulation trials
The challenges of trialling and implementing new forms of transport in complex real world environments, and how these can be addressed
Creating and delivering principles and models which are replicable to other cities worldwide
Developing and implementing an evidence-based safety case framework, setting best practice standards for future testing of mobility solutions
Exploring the practical implications of the changes required in areas such as cyber security, insurance, connectivity and vehicle design
Shaping and informing the development of laws and regulations relating to automated vehicles to ensure they are appropriate whilst still enabling innovation
Establishing new relationships with local authorities and Government to facilitate collaboration on the integration of new mobility solutions into existing transport infrastructure
It also identified potential areas for future research including:
When under time pressure will drivers react differently to AVs?
How do drivers interact with AVs following a period of exposure to them in the driven environment?
Could different driving styles influence the way drivers interact with AVs?
How do human drivers interact differently with AVs compared to human driven vehicles in different manoeuvres on urban roads or motorways?
Do human drivers interact differently with partially, compared to totally, automated vehicles?
The final report and all supporting research documents produced by the consortium partners are now available at www.gateway-project.org.uk/publications.