Galliford Try is set to axe 350 jobs as it seeks to 'refocus on key strengths in markets including building, water and highways'.
The news came in a trading statement, which confirmed that Galliford Try has had to write down £40m from its annual profits for the current year due to 'restructuring costs and legacy and current projects'.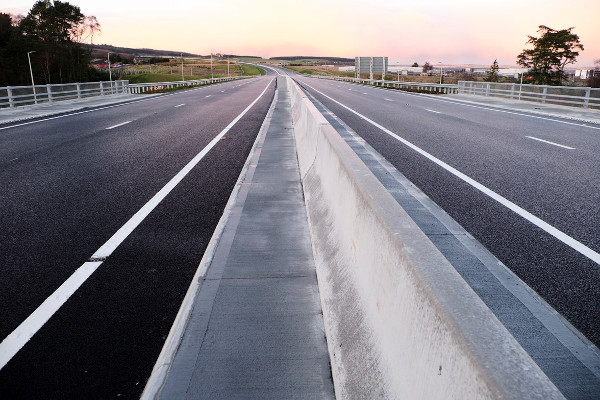 Galliford Try lost millions on the recently completed Aberdeen Western Peripheral Route
The restructured business' target annual revenue will reduce from £1.7bn to approximately £1.3bn, generating 'annualised cost savings of up to £15m from 2021, accelerating progress towards our target operating margins of 2% by 2021'.
Shares in the business have fallen by about half their value since a high in September last year.
After taking major financial hits on key projects, including the Queensferry Crossing and the Balmedie-Tipperty section of the Aberdeen Western Peripheral Route project, the firm ceased bidding on fixed-price major projects in 2016.
It then launched a strategic review to help consolidate its existing enterprises.
Graham Prothero, chief executive, commented: 'We have made some difficult decisions in response to the challenges faced by the Group's Construction business. The associated operational changes are being implemented across the business. We are confident that the decision to refocus our construction activities will deliver a more stable business for the future and support improved margins.
'Our balance sheet remains strong, with guidance for average net debt for the full year unchanged.
'Despite the ongoing macro-economic and political uncertainty, housing demand continues to be supported by a strong mortgage market, and by Help to Buy. Linden Homes continues to see a steady sales rate and to deliver operational improvements, and we are delighted with the continued strong progress of our Partnerships & Regeneration business.'
The Galliford Try current order book is £3.0bn (2018: £3.3bn). 78% of next year's revenue has been secured (2018: 71%).
'With regard to the claim in respect of the completed Aberdeen Western Peripheral Route, and the previously disclosed £38m work in progress balance in respect of three contracts for a single client, our position is unchanged,' it said.