The Welsh Government has denied understating the construction cost of the final A465 dualling scheme as details of the future cost to taxpayers over three decades have belatedly emerged.
Last week, when announcing the Design, Build, Finance and Operate contract award for the 11-mile Dowlais-Hirwaun part of the Heads of the Valleys road, the Welsh Government omitted cost figures, although it later told Highways that the estimated construction cost was more than £550m.
It also stated that Annual Service Payments (ASPs) to the contractor, which cover the cost of construction, maintenance and financing the project, were commercially confidential.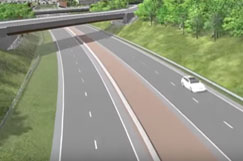 Now it has disclosed that the ASPs will be about £38m, also excluding VAT and inflation. Over the 30-year operational contract period, the ASPs total £1.14bn in current prices.
Based on a previous scheme, Highways has calculated that non-recoverable VAT could add £152m.
The Welsh Government has also clarified that the £550m for construction excludes VAT and inflation. For the road's public inquiry in 2018, the construction cost was estimated at £309m excluding VAT. The latest figure is 78% higher, and 25% above last December's estimate of £440m.
Although the Welsh Government does not directly pay the cost of construction, the structure of its Mutual Investment Model means that a higher construction cost results in higher ASPs.
A government spokesman denied that an unrealistic estimate had been used for appraisal and the public inquiry. 'The estimates were prepared based on the best information at that time and have evolved as more information becomes available and the conditions under which the contract is let are better understood,' he said.
The cost increase is partly due to more expenditure than expected being required on existing highway structures and utility diversions and as a result of additional ground investigations.
There is further allowance for Brexit's anticipated impacts on the labour market, and a further allowance for inflation after construction was delayed by an 'extended procurement process' and COVID-19 impacts.
It also appears that the demise of Carillion and other construction firms such as Swansea-based Dawnus had a bearing. The spokesman said there had been an 'increase in the fee allowance to cover overhead and profit to tie more in line with current market conditions, in light of recent high profile collapses of UK-based construction companies'.