The only motorway in England which drivers need to leave to continue their journey on the same motorway could be about to get its missing link in the form of a redesigned interchange.
Currently, drivers travelling eastbound on the M60 at junction 18 near Prestwich, known locally as Simister Island, can find themselves on the M62 on their way to Leeds unless they use a roundabout to reach the southbound section of the M60.
The anomaly was created when the M60 was formed 20 years ago, connecting several existing motorways with a new stretch of motorway to form a 36-mile ring road around Manchester.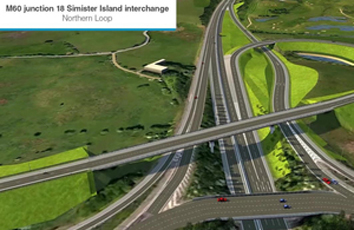 Highways England has shortlisted two options that it says performed the best against the project objectives – the 'Northern Loop' and 'Inner Links options.
The scheme page for the works, which are in the second Road Investment Strategy (2020-25) gives the cost in a range from £66m to £338m.
The hard shoulder could also be converted to a permanent extra lane along the mile-long stretch of the M60 between junctions 17 and 18, providing five lanes in both directions.
Chief executive Jim O'Sullivan said: 'Simister Island is one of England's busiest motorway junctions, and the improvements we're planning will make it easier for people travelling between the M60, M62 and M66.
'We now need your views to help make that much-needed motorway upgrade a reality.'
Peter Molyneux, major roads director at Transport for the North, said: Simister Island is a well-known anomaly in the area which causes delay and disruption for thousands of vehicles every day.
'It is included in our Northern Infrastructure Pipeline as a vital scheme for improving road connections in the North West, and on completion the upgrade will better serve local traffic and improve reliability for east-west journeys across our region.
'This consultation is welcome news as the next stage in progressing this scheme and we urge everyone to give their views.'
Highways England is changing the way it carries out consultations during the Covid-19 pandemic, and is no longer holding face-to-face public events. Instead it will arrange a series of 'telephone and online chats', where people will be able to speak directly to a member of the project team.