Highways England has insisted that it is not underspending its designated fund for air quality after London mayor Sadiq Khan suggested that cash from the fund could help expand his planned £23m scrappage scheme.
The scheme would initially be aimed at helping businesses with fewer than 10 employees switch to lower emission vehicles, including electric.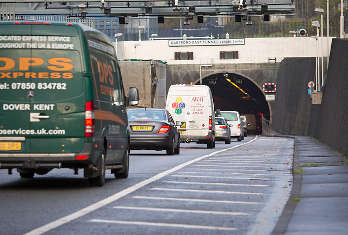 City Hall said it is planned to be in place ahead of London's new central London ULEZ, which from April 2019 will charge the most polluting vehicles, including diesel vans that do not meet the latest Euro 6 standard.
Funding would be available to scrap vans that do not comply with the new ULEZ standards, but are driven into the ULEZ zone regularly.
The mayor challenged ministers to match-fund his proposed scheme, 'either from the £245m National Clean Air Fund or from underspend on Highways England's £75m air quality fund', which City Hall said would enable scrappage support for other Londoners.
City Hall said this would also give ministers the evidence they need to judge scrappage proposals from other cities, 'and demonstrate the transformational benefits of a truly national scrappage fund'.
Last month, in response to a written parliamentary question from Andy Slaughter, Labour MP for Hammersmith, roads minister Jesse Norman said: 'Since the start of the first Road Investment Period in April 2015 and up to November 2018, £2.82 million of Highways England's ring-fenced Air Quality Designated Fund has been invested. In 2018 – 19, Highways England anticipates spending £8.6 million of this fund.
'Investment plans for 2019 – 20, including support to the Government's National Air Quality Plan, are still under development. The indicative forecast is £54 million currently.'
In response to the mayor's request for cash from the fund, a Highways England spokesperson said: 'We are not underspending on our air quality fund. We have every intention of investing the full amount within our current five-year programme, which continues until March 2020.
'Since 2015 we have been doing the necessary investigation of options for meaningful and effective interventions to improve air quality; our plans include starting our national barrier installation programme, supporting a local authority to help us accelerate the uptake of electric vehicles for all fleets operating vans, and investigating opportunities for even more electric charging points.'
Highways England's designated fund for air quality totals £100m from 2015 to 2021, with £75m to be spent by 2020.