Hounslow Highways is keeping its fingers green in more ways than one, after unveiling its first electric chipper.
Following a successful two-week trial earlier this year, the team added the machine to its growing list of electrical tools, equipment and plant.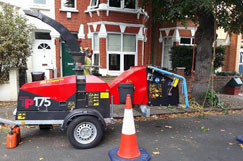 The chipper is quieter and less polluting and its lithium-ion technology is said to be a match for motor-driven machines in both power and performance.
The lightness of the model also allows for it to be easily transported to any site as required when compared to the non-electrical chippers, which are often significantly heavier.
Rebecca Mastrogiannis, environment and sustainability manager, said: 'Our team is absolutely committed to the green agenda – these tools really enhance the way we work as we are lowering carbon emissions and improving air quality associated with our works. And for people who are passionate about trees, that's a nice change.'
Martin Clack, divisional director, said: 'We are continuing to look for new green additions to our fleet, and this chipper is a great example of Hounslow Highways continuing commitment to find not only the best equipment in terms of performance, but also plant and tools that will support our ambition to lower our carbon footprint.'
The Hounslow Highways team is a partnership between VINCI Concessions and Ringway under a 25 year PFI deal that started in January 2013.