The president of council directors' body ADEPT has revealed plans to support local government data initiatives in partnership with industry and the Department for Transport (DfT).
In a speech at Traffex Seeing is Believing, Neil Gibson highlighted that sub-national transport bodies (STBs) were creating 'data platforms and data warehouses'.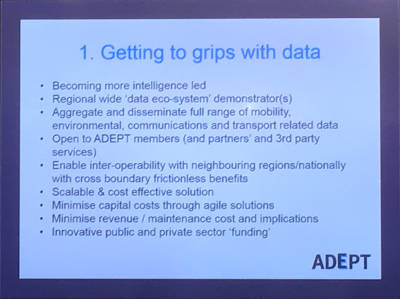 'ADEPT will ask them to work with highway authorities so they can integrate this work. Authorities should be able to buy a service from a regional data platform. We plan to approach three STBs later this year to carry out trials in this area.'
ADEPT is into the third phase of a desktop research and trial exercise into smart places sponsored by the DfT and private sector companies including Ringway, Atkins, Kier, O2 and EY.
Data is the first aspect of this third phase and, in order to bring together the somewhat fragmented data landscape, ADEPT also plans to introduce a live labs element.
Mr Gibson said: 'we will be inviting authorities to put together proposals to us with DfT to carry out experiments at scale to put all this data together. The DfT and [business department] BEIS are interested in potentially helping provide some finance support.'
A third aspect to this initiative is a knowledge hub aggregator for ADEPT members and wider industry.
This would draw upon trusted new research policy and strategy to provide an accessible single source of relevant information in a single portal.
The idea is for the solution to be standalone, requiring minimal maintenance, and to be able to generate revenue. Human interventions would principally be used to verify information and sources.
Mr Gibson said the local government highways sector should be looking to draw in more cash from outside DfT funding, pointing to potential opportunities in government housing cash. He said ADEPT was looking into this with government.
Image above shows a slide from Mr Gibson's presentation.