Safety and security specialist Highway Care has signed a deal with Italian firm SMA Road Safety to become UK Distributor of SMA's full range of road safety solutions.
As of the beginning of July, Highway Care can supply throughout the UK market a full range of high-speed solutions, the Ermes in six variants of installation and performance speed and Leonidas in 43 variants of width and performance speed.
The firm said these systems offer an ideal solution for maintenance contractors and local authorities, and for upgrade projects, with the wide range of options able to suit almost any situation.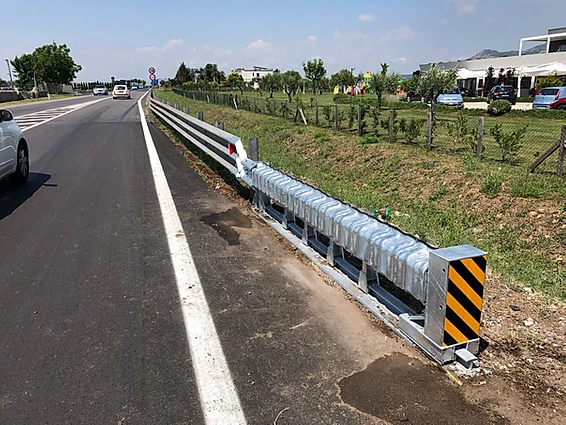 Managing director Antony Butcher said 'As we make headway through what has been a very difficult time for people in the personal and business sense, it is very exciting and uplifting to be able to share some news which will allow Highway Care to take the next step forward and team up with a fellow forward-thinking company to offer the industry even more road safety products.
'We are looking forward to seeing many Ermes End Terminals and Leonidas Crash Cushions on the road in the near future.'
Highway Care said each highway safety product in the Ermes and Leonidas family will offer protection based on specific applications and speeds, allowing for more tailored solutions.
It will offer P4 (pictured above) and P2 end terminals. Both are double-sided, and bidirectional devices totally made of steel, allowing for total energy absorption.
Highway Care said the Ermes end terminal provides 'the performance of a crash cushion, but at the cost of a terminal' with SMA describing it as 'The' end terminal.
As it is repairable like a crash cushion, the Ermes can reduce both repair costs and time. According to Highway Care, It is the shortest terminal available allowing for installation in locations where space is limited, and other sytems cannot be installed.
It boasts best in class performance, achieving D1.1 and Z1 performance, tested to standard EN 1317-4 and prEN 1317-7. Ermes end terminals provide flexible installation options for a range of surface types including soil, asphalt and concrete suitable for use with both the P2 (80 km/h) and P4 (110 km/h) systems.
The Leonidas re-directive, steel crash cushion family has four system types available; Parallel, Semi-Wide, Wide and X-Wide. There are a total of 43 variants of width, size and speed performance options.
Highway Care said that what sets these crash cushions apart is the unique range, ensuring that there is a solution for almost any location, and the simplicity of repair, with the replacement of the impact absorbing panels after a collision, saving maintenance contractors time and costs.
It added that they work by having a bumper or frontal panel as the rigid connection among the sliding side panels, which slide one upon the other following an impact, driven by an appropriate shift system.
At the same time the central panels, which are connected to a couple of sliding side panels, crash the cells and gradually dissipate the kinetic energy generated by the impact. The additional panels help the re-directing of the vehicle, by absorbing the energy of the lateral impact.
Highway Care says the market leading short system lengths will be ideal for locations with limited space between carriageway and hazard.
In addition, the Leonidas Parallel is designed for narrow spaces, particularly tunnels, protecting against vehicles of varying speeds, including: 50km/h, 80km/h, 100km/h and up to 110km/h. Highway Care said the 110km/h Parallel system has passed an experimental high-speed test at 130 km/h (80.8mph)
The Leonidas Semi-Wide Crash Cushion is for fixed obstacles, with different options for straight and parallel sides for slip roads, while the Leonidas Wide and X-Wide crash cushions protect larger and wider, fixed road obstacles at speeds from 80 km/h up to 110 km/h.
Ben Duncker, Highway Care commercial director, said: 'The SMA Road Safety and their products, including the Ermes End Terminal and Crash Cushion families, are high-quality with an unmatched range of options available for different speeds, widths and applications. We now offer our customers more choice and flexibility on products, to ensure the safest solution is provided, which is our ultimate aim.
'We wanted to offer our customers a full range of products both for the Highways England and local authority sectors. With SMA we now have many products suitable for both including urban, slower-speed solutions.
'SMA have proven to be a dynamic and innovative company which shares its innovative values with Highway Care, providing new solutions to improve road safety for all users. We believe this newly formed partnership will lead to the introduction of further innovative products and solutions which will be of significant benefit to industry.'
Roberto Impero, commercial business manager, at SMA Road Safety, says: 'SMA is excited to be working with the UK's recognised leader in road safety innovation and product supply. Highway Care has demonstrated over many years its understanding of the highways market along with the ability to form strong and lasting relationships with both consulting and contracting companies.
'SMA is proud to have developed a broad range of road safety products which are approved and being used widely in most countries worldwide. We are committed to developing and manufacturing new life saving products and we feel that in Highway Care we have a fantastic partner that shares with our determination and desire.'