Kier Highways is the first company in the UK construction sector to become a Disability Confident Leader through the Department of Works and Pensions (DWP) programme.
The Government-run scheme is designed to increase levels of employment for people with disabilities by raising standards and increasing understanding of disability in the workplace.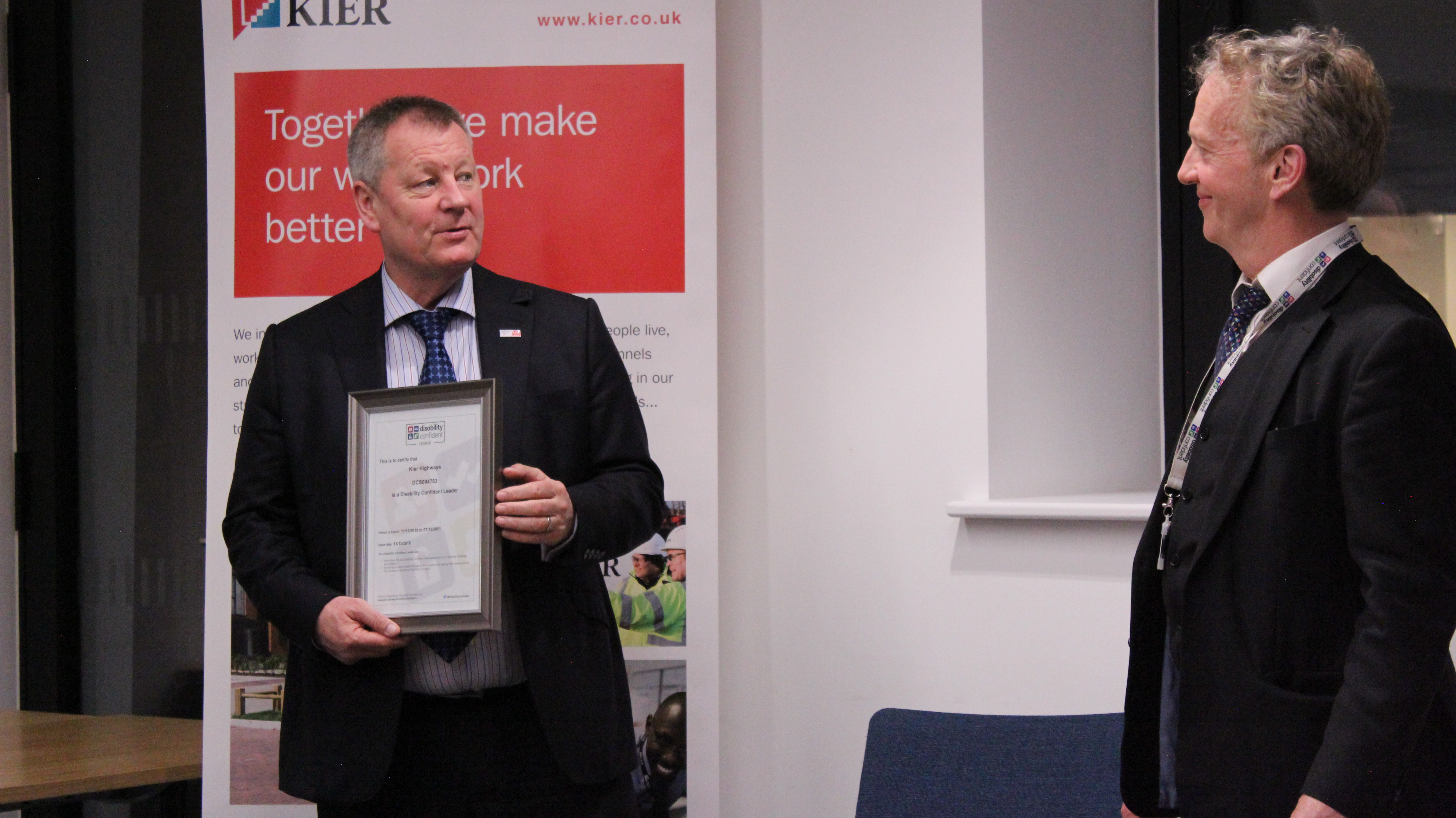 Kier launched a range of initiatives including:
an inclusive recruitment policy
equality, diversity and inclusion steering and action groups
a Disability Confident Forum for employees with disabilities to test practices and procedures
bi-annual inclusion weeks.
Also, Kier's NORDIS Signs business was established to provide meaningful employment for disabled people in the Northamptonshire area and currently employs 15 road signs specialists, 14 of whom have a disability.
Dave Wright, executive director for Kier Highways (pictured above receiving certification of the award), said: 'I'm thrilled that Kier Highways is the first company in the UK construction sector to be recognised as a Disability Confident Leader. We work hard to ensure our workplace is inclusive for our colleagues with disabilities and to be recognised for this is very humbling.
'I am particularly proud of our NORDIS Signs business and being able to offer our colleagues in Northamptonshire stable employment opportunities. People with disabilities offer a wide range of skills and strengths into our business and this commitment extends beyond compliance; we will be promoting the scheme and its principles to clients, supply chain and peers within the construction sector.'
Tony Hyland is a national account manager with the DWP and supported Kier throughout the process of achieving leadership status.
He said: 'It is fantastic that Kier Highways has made this important step, and we hope this will be the first of many companies in the sector. People with disabilities can overlook construction as a career path, often because they are unaware of the range of roles available.'
Kier engaged with Disability Rights UK to support and evaluate their application, a specialist Third-Sector Organisation.
The Kier transition from Employer to Leader status included the consolidation of KierWSP and NORDIS's accreditation under a single registration.