National Highways' HGV cabs are being used as part of a multi-agency fortnight of action along the M4 and M5 that aims to reduce the number of incidents and highlight the risks of dangerous driving.
The government-owned company, formerly Highways England, has released film captured on the M4 earlier this year showing an HGV driver holding two mobile phones, one to each ear.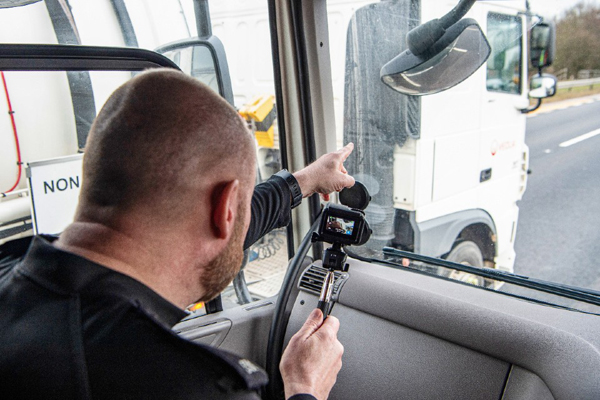 The film, taken from a National Highways HGV cab by Avon and Somerset Police, captures one of over 21,000 offences recorded by officers in the Operation Tramline vehicles since the national safety initiative was launched.
The cabs are now being used as part of a fortnight of action along the M4 and M5, taking place from Monday (13 September) to 26 September, under the banner of Operation Peninsula.
Nicholas Reed, National Highways' road safety lead for the South West, said: 'The HGV cabs are an important part of our commitment to tackling unsafe driving and those who take unnecessary risks with their own safety and that of others on the road.
'The number of people found using their mobile phone while driving is quite alarming. You are four times more likely to be in a crash if you use your phone and, if caught, face a £200 fine and six points on your licence.
'Through this fortnight of action on the M5 and M4 we want to make all of our roads safer by raising awareness and encouraging motorists to consider their driving behaviour.'
Since the launch of Operation Tramline in 2015, more than 21,600 offences have been recorded on England's motorway network. The most common offences have included:
using a mobile phone – 6,073
not wearing a seatbelt – 6,253
not in proper control of vehicle – 1,501
speeding – 1,199
National Highways said a total of 19,564 vehicles have been stopped in Operation Tramline between July 2015 and April 2021, with a number of 'bizarre and dangerous' behaviours spotted:
a driver steering a lorry with his knees while eating lunch on his lap and using a phone
a driver eating lasagne with a knife and fork while driving along a motorway
an HGV driver boiling a kettle on the dashboard and another eating pickled gherkins from a jar with his elbows on the steering wheel