Manchester has come top of a new table of the most congested English areas outside London.
A report from the National Infrastructure Commission (NIC) showed Liverpool and Birmingham taking up the next two places behind Manchester. The highest placed area that is not a city is the area of Accrington and Rossendale at number 26.
The NIC said its analysis had adopted 'a new approach to measuring traffic congestion', calculating the real-life experience of drivers and how this will vary over a range of journeys, rather than using average speeds.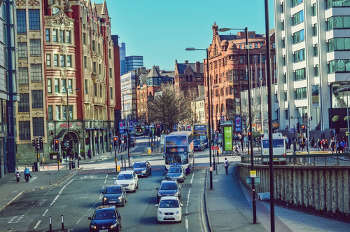 In March, Greater Manchester mayor Andy Burnham published a 'Congestion Deal' with a number of proposals to reduce traffic levels including improved public transport and a high occupancy vehicle lane.
Although he has said that a Clean Air Zone for the Manchester city region could restrict certain vehicles from operating in polluted areas, he has ruled out any form of congestion charge.
The NIC repeated its call for major new investment in the UK's urban transport networks. Its National Infrastructure Assessment recommends greater powers be devolved to metro mayors and local leaders to improve urban transport, backed by £43bn extra funding to 2040.
NIC Chairman Sir John Armitt said: 'From Manchester to Bournemouth our cities are facing gridlock – creating misery for people trying to get from A to B. Trying to tackle this from London won't work. Our metro mayors and city leaders need to be in the driving seat to develop local solutions.
'In our National Infrastructure Assessment – the first of its kind for the UK – we've called for powers and increased funding to be devolved from Whitehall to local leaders. This will give the people who know their cities best the tools they need to improve urban transport and support the delivery of new employment opportunities and homes.'
AA president Edmund King said residents of Manchester 'won't be surprised' to top the table. He added: 'Private car ownership is still strong, and will remain a fact of life in cities for decades. Unless councils provide attractive, reliable alternatives, traffic jams will remain a fixture of city life.'
Sir John Armitt has written to leaders in 50 cities across England offering support from the NIC as they develop their own integrated plans to improve local transport, unlock employment opportunities and deliver new homes.
The 'Top 10' most congested areas outside London
1. Manchester
2. Liverpool
3. Birmingham
4. Portsmouth and Southampton
5. Nottingham
6. Leeds
7. Bristol
8. Brighton
9. Leicester
10. Bournemouth