The Government should identify 'priority cities' and set aside £30bn for a pipeline of infrastructure projects by 2040 as part of an expansion of devolution, the National Infrastructure Commission (NIC) has urged.
In its 2021 annual monitoring report, the NIC welcomed the move to give eight metro mayors five-year budgets starting 2022/23 - the cash includes £4.2bn for urban transport - but called for the programme to be expanded.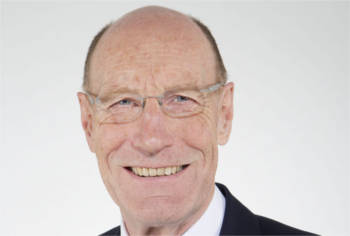 The report states: 'Projects on the scale needed will take a decade to deliver so work should start now on identifying priority cities for a pipeline of major projects, and setting aside funding in the order of £30 billion by 2040 to support development of specific programmes in partnership with cities.
'City authorities should be set the goal of raising at least 25 per cent of the cost of any major improvements locally, with government working with them to ensure the right mechanisms are available for raising this funding.'
The commission's chair Sir John Armitt (pictured above) said that the Government's 2020's policy statements 'set the bar high: 2021 must be a year of turning policy goals into delivery'.
The report adds: 'The government should consider how to bring together local devolution and longer-term funding into a new model, putting decision making into the hands of local leaders but also making clear how they will be accountable for delivering benefits locally.
'Devolved budgets should be spread to more cities and places across the country and embedded in legislation to mark a permanent change away from short term, fragmented funding pots.'
Sir John added: 'We also remain of the view that major, long-term investment is needed in urban public transport outside London if we are to tackle congestion in some of our largest cities and stimulate economic growth.'
Outlining a 10-point plan of key priorities for this year, the NIC monitoring report calls on government to:
Produce a delivery roadmap for electric vehicle charging infrastructure to meet the 2030 end to new diesel and petrol car and vans sales including ensuring that future price controls facilitate the necessary investment in the electricity grid.
Publish a comprehensive cross-modal freight strategy with a firm commitment to phase out diesel HGVs by 2040 along with detailed decarbonisation plans consulted on with the road haulage and logistics industry.
Develop clear, actionable, and funded plans to deliver on energy commitments made in the Ten Point Plan for a Green Industrial Revolution, and the National Infrastructure Strategy, including setting out next steps on heat decarbonisation and the development of a hydrogen industry.
Further improve energy efficiency schemes to deliver a material increase in the energy efficiency of the country's building stock over the coming year.
Set out a pathway to major urban transport investment in the 2030s, with a committed long term funding envelope in the order of £30bn between now and 2040 including locally raised finance, and a process to identify a number of priority cities for transformational upgrade programmes, to be developed in partnership with local authorities.
Set out proposals for continuous five-year local transport budgets for mayoral authorities in England to continue beyond 2027, along with considering long term funding, decision-making and local accountability to make devolution a success.
Set out a clear plan with milestones and funding for delivery of high capacity broadband to the hardest to reach 20% of UK premises.
Ensure the Infrastructure Bank is operational in an interim form from spring 2021, so it can support infrastructure projects to help meet the objectives of economic recovery, net zero and levelling up
Develop a road map enabling regulators to legislate for net zero and collaboration duties, creating mechanisms to introduce more competition to facilitate strategic investment and innovation in water and energy.
Respond to the Commission's resilience recommendations, including the resilience duties originally recommended in Strategic Investment and Public Confidence.
The NIC is the key advisory body to government on UK infrastructure's long-term needs.
This year, the Government intends to review the fiscal remit for the commission to ensure it reflects the government's long-term ambitions.