The chair of the National Winter Service Research Group (NWSRG) has celebrated the new organisation's new model, which has boosted membership and opened up collaboration with other sectors.
Richard Stacey, assistant network manager and winter service manager at Hertfordshire County Council, told delegates at the Cold Comfort winter maintenance conference in Harrogate about changes to the NWSRG since he took over as chair.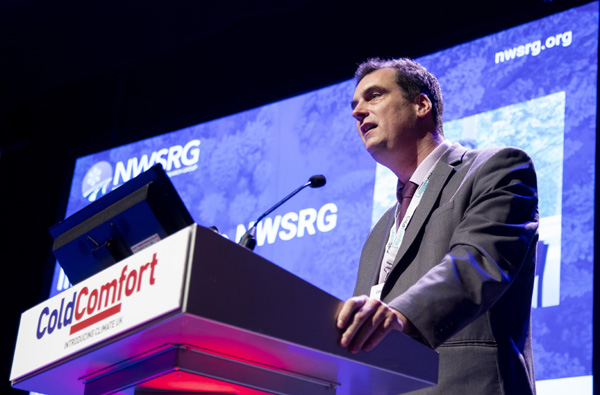 He said: 'We have a different funding model, where local authorities can join for free and we've seen bigger take-up from local authorities, which is really good because it's about getting that message across. It's about working together and getting the best for you as local authorities.
'We've recently expanded into the local rail and air sectors. That's come with good points as well. The air industry, with the runways, uses similar equipment to us but they do it slightly differently. So why aren't we learning from them?
'The rail sector, you might think, we've not got a crossover with them, but actually, we have. Aside from the points where our bridges go across [their tracks], they've also done a lot of research and brought a lot of academia with them, into weather patterns, and how it affects trains, but that learning can also help us as an authority with how it's affecting us.
'It's also about working with them, because if we can understand as an authority when they close stations – what's the point of us gritting to them if they've closed it because no one's going to use it?'
Returning to the subject of the NWSRG's new structure, Mr Stacey said: 'We've got a technical advisory group, which we couldn't do without. They're part of the funding model now. They're some of your exhibitors [in the Cold Comfort exhibition hall]. And they are for technical expertise; they give us a lot of support and help and without them, we couldn't do it.
'We are very approachable. I've been keen as chair to change that model. The Institute of Highway Engineers now provide our admin support and that has been a big change as well. We've got a better route for when members come along as well. There's a member pack. You can just apply. You can see some of our guidance online without having to be a member but we would encourage you to join.'
Mr Stacey said the involvement of industry associates paying £500 a year had been positively accepted and had even brought in private gritting companies.
He added: 'A lot of local authorities do their own car parks. Why are we not joining up and thinking about our local authority districts, boroughs or if you are a unitary? The ones that do the supermarket car parks. Why aren't we bringing them to the party as well?'