Campaigners have slammed an 'incredibly sinister' £90m contract to carry out security services for National Highways, suggesting it could encourage firms to snoop on anyone planning protests against the Lower Thames Crossing.
National Highways did not deny that the contract could support investigations into individuals or groups opposed to the scheme, but has said that work under the deal will be carried out in an 'ethical manner that respects everyone with an interest in the scheme'.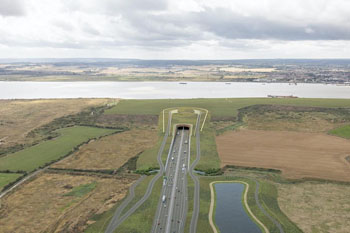 The government-owned company has published a prior information notice 'primarily for the Lower Thames Crossing Programme and potentially for other National Highways projects', seeking specialist security services comprising three key functions:
Provide legally, ethically and proportionally obtained information of potential threats to the project
Provide mobile patrolling of clients land and properties
Where required, on instructions of the client, legally safely and effectively mitigate trespasser actions and or remove, trespassers from the client's land and property
The requirement for 'information of potential threats to the project' is not expressly restricted to threats from illegal activities.
Chris Todd, director of Transport Action Network, told Highways that he was worried it could cover those who object to National Highways application for development consent as well as the prospect of direct action against construction work.
He said: 'This is not only premature given the scheme hasn't even started the planning process yet, but it is incredibly sinister. If the contract is starting in May 2022 when a public examination may have begun, does this mean anyone who objects to the scheme is going to be snooped upon?
'This could have a chilling effect on the democratic process and deter people from engaging. It's bad enough that the system is stacked against objectors and a secretary of state who seems determined to bulldoze through road schemes regardless of their impact.'
He added: '£90m is also a large sum of money that if invested in actually tackling the climate emergency rather than making it worse, as this scheme will do, could do an awful lot of good for local communities.'
In response, Shaun Pidcock, programme director for the Lower Thames Crossing, said: 'The health, safety and security of our employees, partners and the public is our highest priority. It is normal for large infrastructure projects to work with a specialist security provider to help protect its people and customers, dispersed work sites and specialist machinery, as well as prevent cybercrime.
'We are not only looking for a partner to support this, but crucially do so in an ethical manner that respects everyone with an interest in the scheme.'