Construction of a new road bridge in Hertfordshire costing over £10m started this week.
The New River Bridge in Essex Road, Hoddesdon aims to improve access to the local business park.
The scheme, developed by Hertfordshire CC in conjunction with Broxbourne BC, is supported by an £8.9m Local Growth Fund grant from the Hertfordshire Local Enterprise Partnership (LEP), £1.47m from Hertfordshire CC, and £400,000 of developer funding from Broxbourne BC.
The works are being carried out by the county council's contractor, Osborne.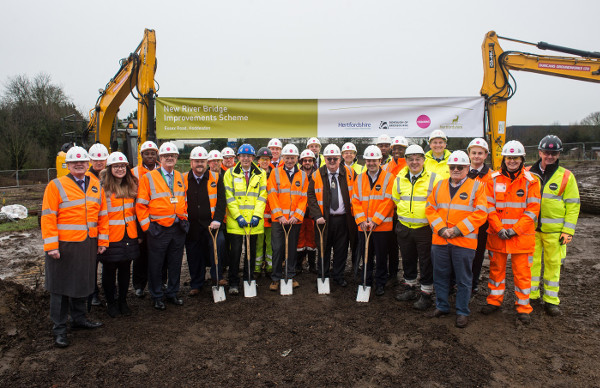 Phil Bibby, Hertfordshire's cabinet member for highways and environment, said: 'This new bridge is the sort of important infrastructure that we need to be investing in to support our local economy.
'With around 100,000 new homes expected in Hertfordshire by 2031, we need to create 100,000 new jobs, so it's vital that we invest in key schemes to improve the road network to unlock economic potential and keep our economy thriving as the population grows.'
Jon Millar, Osborne programme manager, said: 'Today has been a great opportunity to mark the start of this long-awaited and much-needed project. The new link road will improve journey times, resilience and safety, as well as benefiting Hoddesdon Business Park and the local economy.'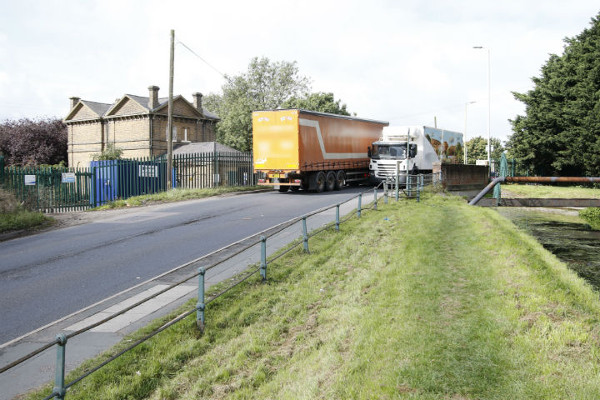 The current bridge on Essex Road, which will remain open during construction work, is 60 years old and said not to be built to modern standards. Both the road and pavement are very narrow, making it difficult for large vehicles to pass. This means the bridge acts as a bottleneck, and any incident that requires repairs to the bridge has a major impact on the business park.
The new bridge will be built alongside the existing bridge to provide a more resilient road link to improve access to and from Hoddesdon Business Park for all vehicles, pedestrians and cyclists.
The works are expected to take around 15 months with the new bridge opening to traffic in spring 2021.