The Government's focus on electric vehicles has left it in denial about the role of road building in increasing traffic levels and carbon emissions, its official climate change advisers have warned.
In a new report to Parliament on Progress in reducing emissions, the Climate Change Committee (CCC) said it had found 'major failures in delivery programmes towards the achievement of the UK's climate goals'.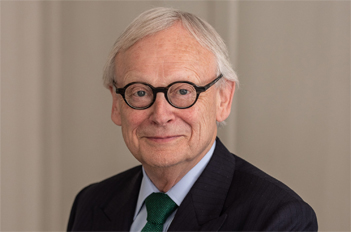 CCC chairman Lord Deben (pictured) said: 'The UK is a champion in setting new climate goals, now we must be world-beaters in delivering them.'
On surface transport, the CCC warned that despite a recent £3bn cut, the current Road Investment Strategy (RIS 2) 'still provides considerable funding for new roads which will induce increased demand'.
It said that while the Department for Transport (DfT) has listed 'Improved environmental outcomes' as one of the objectives of RIS 3, 'the scoping document does not explicitly acknowledge the role of road enhancements in inducing increased demand or the fact that a majority of cars driving during the RIS3 period will still be carbon-emitting'.
It warned: 'Substantial investment in roadbuilding should only proceed if it can be justified how it fits within a broader suite of policies that are compatible with the UK's Net Zero trajectory'.
The report notes that both the Scottish and Welsh devolved governments have recently committed to stop investing in roadbuilding to cater for unconstrained increases in traffic volumes.
It advises that in developing RIS 3 the DfT and National Highways 'must ensure that induced demand and lifetime emissions impacts are adequately assessed'. It adds: 'The strategy should not aim to cater for unconstrained growth in road traffic and must be compatible with Net Zero.'
The report describes the DfT's Transport Decarbonisation Plan, published last year, as 'a positive step for the sector, setting out the Government's vision for how the sector's emissions can be abated'.
It praises the proposed Zero Emission Vehicle mandate and says that the recent Electric Vehicle Charging Infrastructure Strategy, which sets out an ambition for at least 300,000 public charge points across the UK by 2030, 'aligns with our assessment of how many will be needed' and 'presents a credible delivery plan for realising this scale-up'.
Regarding plans to decarbonise modes of transport, the report says the proposal to make Coventry the UK's first zero-emission bus city 'should be used as a learning opportunity to demonstrate and share best practice' and that ministers need to set out a clear plan to achieve their aim of removing all diesel-only trains from the rail network by 2040.
On modal shift, the committee said that while the pandemic saw more people walking and cycling for leisure, 'clearer policy and guidance will be needed to realise the opportunity to embed some of these positive shifts'.
It described recent commitments to significant investment to improving public transport provision as positive, but said 'a more coherent vision for how these investments will work together to deliver an improved overall transport system is needed'.
Chris Todd, director of Transport Action Network, said: 'The latest report should be a wake up call for Government. It's good that the Government has the ambition to deal with climate change, but this report lays bare the failures in delivery.
'While electrification of cars is going well, progress in other areas is poor. Without a strong commitment to traffic reduction and investment to enable a switch to walking, cycling and public transport, we're going to fail in keeping the planet safe.'