Roads maintenance funding in Northern Ireland has been cut so hard that contractors may have moved away or changed their activities, the Department for Infrastructure (DfI) has admitted.
Budget cuts have also left bus and rail operator Translink in a precarious position.
John McGrath, deputy secretary of the DfI's transport and resources group, told a Northern Ireland Assembly committee that the department's resource funding was cut by about £60m in 2015-16.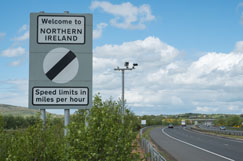 Budgets had not been increased since then, resulting in an 'exodus' of DfI staff, reductions in the road safety budget, and 'drastic cuts to the road maintenance budget'. He said a lot of knowledge was lost, particularly on roads.
Dolores Kelly, MLA for Upper Bann, said many contractors had gone to England, Scotland or Donegal (in the Republic of Ireland).
'It has been very difficult because, when you got a pot of money to fix a bit of road or do maintenance, the contractors were not there,' she commented.
Mr McGrath responded: 'Industry capability and capacity is important to us but, equally, if we do not have money to spend, we cannot magic it.
'I think that some of the smaller contractors who would have done basic road maintenance may have, as you said, gone out of that business or gone elsewhere.'
The DfI was still spending its capital funding, including £2m per week on the A6 dualling between Londonderry and Dungiven. Motorways and some main roads were maintained under PPP contracts, but lesser roads and rural roads were suffering.
He also highlighted Translink's £20m operating deficit. Translink had survived the budget cuts by drawing from its reserves, but he said 'we are almost at the end of that road' and saving £20m (per annum) would 'decimate the public transport network'.
The DfI was underpaying Translink by about £8m a year for the free concessionary travel scheme.
Translink's agreement with the DfI specifies its service provision.
'In spirit, we are sort of breaching the contract,' said Mr McGrath. 'We are not giving a subsidy for uneconomic routes that it is running, and we are now not refunding it for concessionary fares.'