At a time when councils are increasingly facing bigger budget pressures, the amount spent on temporary repairs, including specialised work on loose or sunken manhole covers and unsecure highway drains, is a major headache. The team at Shimpac argues that a dedicated ironwork seating system can be the solution.
The 2019 ALARM report references one water company research paper that found up to 89% of ironwork installation failures were caused by foundation issues, with cyclists the user group most at risk from failed ironworks.
'The cause of most ironwork failure can be traced back to poor or substandard seating. Highway covers and drains can and should be properly seated so they really last to reduce costs, improve safety and sustainability,' said Peter Rieck, owner of Shimpac Systems.
'Having developed a specially engineered solution for seating ironwork securely, it is immensely frustrating to still see annual quick-fix temporary repairs every spring following winter damage.'
Shimpac Systems has been producing ironwork seating since the mid-1980s.
'We created an effective solution proven to withstand the heaviest punishment from the weight of traffic and the most demanding of weather conditions including floods and snow,' added Mr Rieck.
Shimpac provides a laminated (three-tiered) level collar made of cementitious material with natural fibres, secured with mortar between the layers around the ironwork as a stable, level platform.
With a variety of thicknesses available, the frame can be levelled flush to the road surface by groundworkers with ease using no specialist tools just using Shimpac Roadshims of the correct size with fast-set mortar.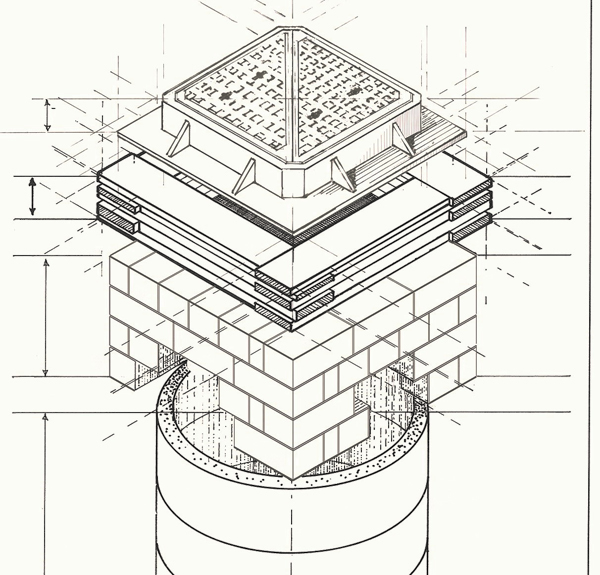 Roadshims build up the top of any given chamber to form a stable structure acting as a major high-performance component in seating and levelling street ironwork. They were first tested in Kent in the 1980s and have recently been used on a major new rail project across London.
The overall solution is compatible with any type of road surface or ironwork.
Manager Barry Andrews joined Shimpac Systems from public sector highways where he developed highway standards.
He said: 'Our product range has been rigorously tested and meets all relevant safety standards to the highest level, including British Standard 7903:2020; DMRB Technical Standard CD 534 (formerly HA 104/09, IAN 196/17 and 197/17) plus port and airport standard BS EN 124-1 with class F900 compliance. Our products are also manufactured to EN 12467:2012 standard.
'Our first product Shimpac Roadshims has mainly been used for civils and surfacing schemes. We have since developed new product lines to meet industry need, so 'u' shaped collars exist for drainage gullies plus many others.'
He added: 'The compressive strength of our products is superb, securing manhole covers on even the busiest of roads. As a sustainable product, specially designed and created from materials that don't deteriorate, their use will stand the test of time for many years without the need for costly remedial repairs.'
Installation is quicker than the traditional process of cutting down bricks to size and can be driven over once the mortar curing time has been met - so for fast-set mortar 60-90 minutes.