The RAC Foundation has announced that Neville Jackson (pictured) – former chief technology and innovation officer at the consultancy Ricardo PLC - has taken over as its chair from Joe Greenwell CBE.
As well as his new role Mr Jackson also holds a range of positions in the sector including non-executive director of the UK Advanced Propulsion Centre, chair of the Institute of Digital Engineering Advisory Board, deputy chair of the UK Automotive Council Technology Group, and visiting professor at the University of Brighton.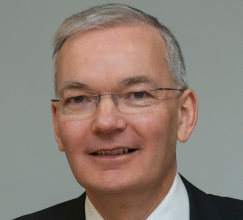 He is also a previous chair of the UK Low Carbon Vehicles Partnership, and a fellow of both the Institution of Mechanical Engineers and the Royal Academy of Engineering.
Mr Jackson said: 'Even before the current COVID-19 crisis, the future of road transport has been widely debated given the demands for de-fossilisation and improved air quality while delivering safe, clean and affordable access to personal mobility.
'The rapid advances in connectivity and automated capabilities have also generated a wide variety of speculative views on not only future vehicles but also the need for investment in roads and infrastructure. The RAC Foundation has been at the heart of this discussion, adding value via data-driven research.
'The Foundation is known for its evidence-based research and advocacy, and I want to thank my predecessor Joe Greenwell for all he did to maintain and enhance that reputation over the past six years.'
As part of his new role, Mr Jackson has become a trustee of the RAC Foundation, leading the board of six trustees, and will work closely with the Foundation's director Steve Gooding.
The RAC Foundation is a registered charity and publishes independent and authoritative research on transport, across a range of areas including economic, social and environmental issues, with which it promotes informed debate and advocates policy in the interest of the responsible motorist.