With the programme finalised for Cold Comfort 2018, which takes place next week, a preview of the show has been published in the latest Highways magazine, now online.
There is still time to register and join over 350 of your colleagues at the 27th annual winter maintenance conference on 16 and 17 May at the Ricoh Arena, Coventry.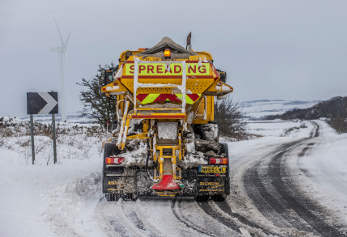 While local authorities and their private sector partners once again responded admirably to the recent heavy snowfalls, Cold Comfort 2018 will consider what lessons can be learned and what improvements can be made.
The event will feature best practice presentations from the Department for Transport (DfT), Highways England, Network Rail, the NWSRG, Atkins, the Salt Association, Somerset County Council, Suffolk Highways, the Swedish National Road, the Transport Research Institute and more.
Programme highlights include:
Lessons learned in winter 2017/18 Steve Berry OBE, DfT
NWSRG guidance - what has changed? Chris Cranston, NWSRG and Devon County Council
Life in the Red Zone: Somerset's response to the March 2018 severe weather David Peake and Karin Harwood, Somerset County Council
Dealing with the Beast from the East - a Suffolk Highways response John Clements, Suffolk Highways
Alongside a large delegation from Highways England, public sector attendees include
Barnet LBC,
Calderdale MBC,
Cambridgeshire CC,
Dept for Infrastructure (NI),
Derby City Council,
Gloucestershire CC,
Hertfordshire Council,
LB Waltham Forest,
Lancashire County Council,
Leicestershire CC,
Enfield LBC,
Manchester City Council,
Met Office,
Milton Keynes Council,
Neath Port Talbot CBC,
Norfolk CC,
North Yorkshire CC,
Oxfordshire CC,
Slough Council,
Tameside MBC,
Transport Infrastructure Ireland and many more.