The Scottish Government has announced a zero tolerance approach for people caught driving with illegal drugs in their system.
The move brings the law north of the border in line with that in England and Wales.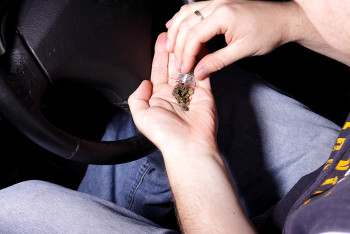 From 21 October this year drug driving limits in Scotland, backed up by some roadside testing, will set limits for the eight drugs most associated with illegal use, including cannabis, heroin and cocaine, at a level where accidental exposure can be ruled out.
A list of other drugs associated with medical use will have limits based on impairment and risk to road safety, while a separate approach will be taken to amphetamine, 'balancing its legitimate use for medical purposes against its abuse'.
The Scottish Government said this will make it easier to hold drug drivers to account as there will no longer be a requirement to prove that someone was driving in an impaired manner.
Scottish justice secretary and former transport minister Humza Yousaf said: 'Drug driving is completely unacceptable, and we will continue to use all of the tools at our disposal to prevent the avoidable deaths and damage caused by those who drive under the influence of drugs.
'Together with our stringent drink-driving limits, these new laws will ensure that Scotland has the UK's most robust laws against impaired and unsafe driving.'
Joshua Harris, director of campaigns for Brake said: 'Drug-driving is an increasing menace on our roads, putting innocent road users at risk every day with dangerous, impaired driving. A zero-tolerance approach is a great step forward for Scotland but will only be effective if there are enough police, with the right equipment, to enforce the new law.'
He called for priority to be given to the type-approval of roadside screening devices that can detect all banned drugs, adding: 'At present, only devices which can screen for cannabis and cocaine use are approved to be used by police at the roadside, limiting the ability to detect drug-driving and enforce the law.'
The drugs that will have a zero tolerance limit are benzoylecgonine; cocaine; delta–9–tetrahydrocannabinol (cannabis and cannabinol); ketamine; lysergic acid diethylamide (LSD); methylamphetamine; methylenedioxymethaphetamine (MDMA – ecstasy); and 6-monoacetylmorphine (6-MAM – heroin and diamorphine).
The drugs with medical uses, which will have limits based on impairment, are clonazepam; diazepam; flunitrazepam; lorazepam; methadone; morphine; oxazepam; and temazepam.