Ministers have been criticised for failing to conclude a review of smart motorways that was announced in the Autumn.
According to the BBC, Claire Mercer, whose husband Jason was killed on the M1 along with another driver after stopping to exchange details following a minor crash, said the review was taking a 'ludicrous' amount of time.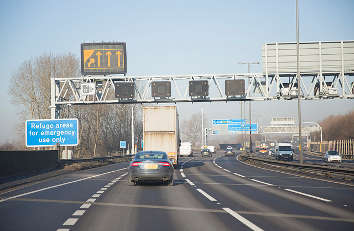 Transport secretary Grant Shapps announced what he called 'an evidence stocktake' in October last year.
In January he said that no new smart motorway all lane running schemes, in which the hard shoulder becomes a permanent running lane, would be opened until the review's outcomes are known.
However, work has continued on current schemes, which may now have to be retrofitted as Highways England has pledged to implement the review's recommendations.
A Department for Transport spokesperson told the BBC: 'We owe it to those families [whose relatives have been killed or injured] to do this as thoroughly and as quickly as we can, and we expect to conclude this work and announce the outcome shortly.'
Separately, the BBC reported that CCTV cameras on smart motorways are not watched at all times. This has previously been reported to be a factor in the average 17 minutes that Highways England takes to spot a stopped vehicle in a live lane.
Andy McDonald MP, Labour's shadow transport secretary, said: 'News that Highways England has admitted that it's not possible to monitor every camera being used on smart motorways at the same time is deeply worrying.
'Grant Shapps said he was unhappy about there being smart motorways, yet the trial is still ongoing. They should halt this trial immediately and put the safety of road users first.'