A controversial study ordered by Chris Grayling during the 2017 General Election campaign has found 'a strong strategic case' for large-scale improvements to the A27 east of Lewes in Sussex, despite an existing £75m package.
As Highways has reported, in May 2017 Mr Grayling (pictured with Lewes MP Maria Caulfield) announced on a visit to East Sussex in support of Conservative election candidates that the Government would spend £3m looking into the possibility of a new dual carriageway section of road north of the railway between Lewes and Polegate.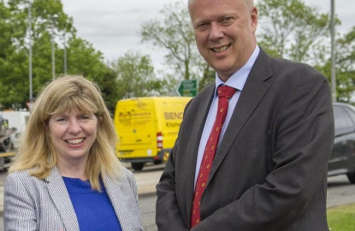 The transport secretary had asked Highways England chief executive Jim O'Sullivan to divert the cash from the £75m budget for an existing package of improvements on the road.
Highways England had previously assessed that there was no economic case for a dual carriageway on this stretch of road, which could cost £300-400m, although funding might become available from 2020-25, i.e. in the second Road Investment Strategy.
Local councillors expressed concerns that the potential for a new road could make the existing package 'a waste of money' or that the existing package could make a dualling option less of a priority.
In October 2017, having announced that it would progress the £75m upgrade, Highways England confirmed that it would spend £250,000 on a study into a possible scheme that could upgrade the road to dual carriageway.
The study was completed last year. A spokesperson for the Department for Transport (DfT) told Highways: 'The report found that there is a strong strategic case for an off-line improvement scheme to address problems with the performance of the current road and facilitate planned housing growth in the area. We will publish the full report in due course.'
The statement that there is a strategic case for a new stretch of road does not guarantee that it will meet DfT value for money requirements.
However, last year Highways England said it would seek Mr Grayling's permission to take forward a £500m scheme on the A417 in Gloucestershire that it had assessed as providing 'poor' or 'low' value for money.
A Highways England spokesperson told Highways that the findings of the report are still being analysed. 'In the meantime we will continue to work closely with local partners including the A27 Reference Group about potential larger future improvements to the A27 between Lewes and Polegate, which would be considered for delivery in a future investment period.'