The chancellor is reportedly considering introducing road pricing to address a tax shortfall of up to £40bn that is expected to arise as drivers switch to electric cars.
The Times linked the move to an expected announcement this week that the ban on the sale of new petrol and diesel cars will be brought forward to 2030.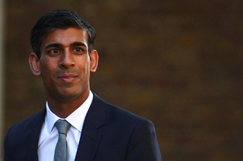 It reported that a Treasury paper on a new national road pricing scheme has been presented to chancellor Rishi Sunak (pictured), who is said to be 'very interested' in the idea.
The paper suggested that widespread adoption of electric cars could cost the Government £27.5bn annually in lost fuel duty, while VAT on fuel currently raises £7.1bn annually and vehicle excise duty is worth £5.7bn a year.
Road pricing – charging drivers for the distance they drive – has for some time been seen as an option to plug this gap but is also seen as politically unpopular.
AA president Edmund King said: 'While the push toward electric vehicles is good for the environment, it is not good for the Exchequer. The Government can't afford to lose £40bn from fuel duty and car tax when the electric revolution arrives.
'It is always assumed that road pricing would be the solution but that has been raised every five years since 1964 and is still perceived by most as a poll tax on wheels.
'We need a more imaginative solution and have proposed Road Miles, whereby every driver gets 3,000 free miles, with one third more for those in rural areas, and then a small charge thereafter.'
Mr King suggested that this could be a more popular solution, 'combined with commercialising the roads with an adopt a highway scheme with naming rights such as the Minecraft M1, Manchester Utd M6 or Adidas A1'.
The RAC's head of roads policy, Nicholas Lyes, said that if the funding shortfall is not addressed, 'we risk finding ourselves in a situation where petrol and diesel drivers continue to pay all the tax for using the roads, which is unsustainable'.
He added: 'But drivers are firm in their views that any new system must not be used as a way to increase the tax burden on them. Despite this, RAC research shows around four in 10 drivers believe that some form of pay-per mile system would be fairer than the current system of fuel duty, while 49% agree that the more someone drives the more they should pay in tax.'
Reports have suggested that the Boris Johnson was preparing to make a series of 'reset' announcements this week. However, he is now self-isolating after meeting an MP who subsequently tested positive for COVID-19.