Surrey County Council is to convert all of its 89,000 street lights to LEDs over the next three years at a cost of £20m.
The council said the move will save £2m a year at February 2020 prices as LED lanterns use around 65% less energy, and could save more if energy prices continue to rise.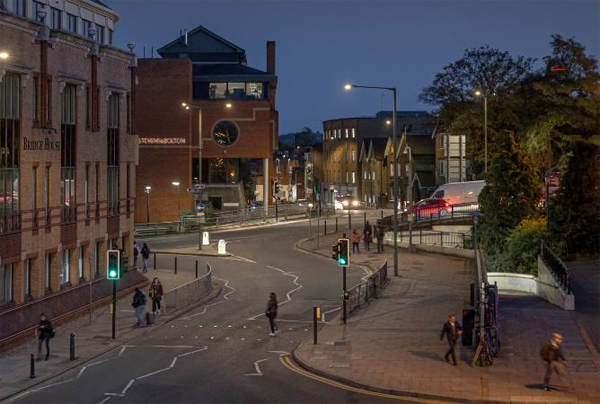 Street lighting near Guildford railway station
The three-year programme has already started in Guildford borough, with lights in Surrey Heath and Waverley due to be converted in the coming months.
Cabinet member for transport Matt Furniss said: 'Investing in LED streetlights demonstrates our commitment to reducing our energy consumption. As well as supporting our aim of being net carbon zero by 2050, the reduced costs also benefit the taxpayer.'
Skanska, which has delivered the county's street lighting maintenance over the last 10 years, is managing the conversion.
Works will be combined with other maintenance such as electrical tests to save cash.
Skanska operations director Matthew Riches said: 'Working with Surrey County Council to upgrade its street lighting infrastructure with energy-saving LED lights will help achieve significant savings in carbon emissions and energy, as well as improve the lighting for local pedestrians and road users.'
The move is also expected to save an around 7,700 tonnes in carbon emissions each year and the new lights should also last for 20 years – six times longer than traditional bulbs.
The council's street lighting central management system will also be upgraded, providing an array of data to help manage the county's street lights and allowing for innovation, such as air quality monitoring, dynamic lighting (adjusting lighting levels in line with traffic usage), road temperature sensing and gully monitoring.
Skanska said the clear white light produced by the LED lighting will also improve safety conditions for pedestrians and other road users.