Traffic technology group, Swarco has launched a traffic management platform called MyCity designed to support the latest mobility trends including EV charging, micromobility, floating car data and air quality.
Aimed at the local government market, the platform also includes the functionality of a traditional traffic management system such as traffic signal monitoring and control, car park guidance and VMS management and journey time monitoring whilst enabling plug-ins for new features.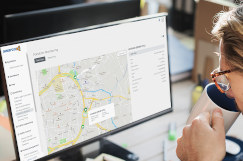 The web-based modular setup can be tailored to the specific needs of individual towns or cities, with the various functionalities and features added on.
MyCity brings together all of SWARCO's software solutions, including Zephyr which allows users to control and manage Variable Message Signs.
Carl Dyer, chief technology officer at SWARCO UK, said: 'Traditionally SWARCO has delivered domain-specific solutions within the field of urban traffic, highways, parking and public transport. MyCity is now bringing this domain-specific know-how together in a holistic platform approach.
'Various legacy systems, data sources and information systems can be easily integrated to determine meaningful information on the current and future traffic situation and determine an optimization strategy that is right for the needs of individual cities and its residents.'
The user-friendly interface means it is simple to use and doesn't require software-specific skills to operate, Swarco said and it can be accessed on desktop or mobile.
MyCity is available as an on-premise solution or as a Cloud-Based solution operated by SWARCO 24/7.