The chairman of England's first sub-national transport body (STB) to achieve statutory status has hailed 'a watershed moment for devolution' and a once in a generation opportunity to improve transport in the North.
At a meeting in Liverpool today, transport minister Jo Johnson joined northern leaders and businesses to mark the moment that Transport for the North (TfN) formally took up its statutory powers.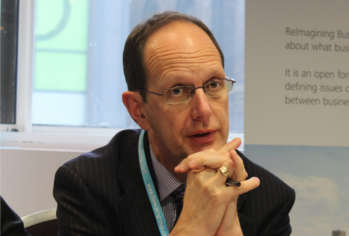 TfN chairman John Cridland (pictured, right) hailed the enactment of statutory status as a chance for the North to shape its own transport future.
He said: 'The scale of opportunity and ambition cannot be understated. For the first time, recommendations on what and where investment is needed will be agreed by the people that live and work in the North, allowing us to speak with a united voice to central government. It's a watershed moment for devolution and a once in a generation opportunity to deliver significant improvements in the North's transport network.
'Our Strategic Transport Plan will set the blueprint for transport infrastructure improvements across the next 30 years and will allow us to make a strong and consistent case to government for sustained investment in the North.
'We're already making this a reality. We're developing fully-costed proposals for Northern Powerhouse Rail, developing plans for major road improvements including a trans Pennine tunnel, starting to roll-out smart ticketing, and are driving tangible service improvements through our co-management of Rail North franchises. This coming year will be the busiest and most important yet.'
Mr Johnson, said: 'Establishing Transport for the North demonstrates our unwavering commitment to giving our great towns and cities of the North far greater influence over transport investment decisions.'
Marie-Claude Hemming, director of external affairs for the Civil Engineering Contractors Association (CECA) said: 'Transport for the North's accession to statutory status fulfils a long-held CECA policy goal. CECA is a keen advocate of rebalancing the economy. We have published a range of policy proposals that we believe, if implemented, would enable the North of England to fulfil its potential as an economic powerhouse.
'One of these proposals was granting statutory status to Transport for the North in order to deliver an integrated transport strategy for the region. All the English regions, and the devolved nations of Scotland and Wales, must be allowed thrive. The right transport systems are crucial to this.
'For too long, the North of England has been allowed to lag behind that of the South East. Granting statutory powers to Transport for the North is a milestone that will facilitate the delivery of essential infrastructure, which will create jobs, boost skills provision, and drive economic growth.'