The third in our series of exclusive behind-the-scenes briefings on the award winning A14 scheme from the team at Atkins tells how motorists, walkers, cyclists and horse-riders are all benefiting from the upgrade.
There was always a strong economic case for Highways England's A14 Cambridge to Huntingdon improvement scheme.
As the UK's largest highway project in recent years, it is set to deliver improved traffic flow between East Anglia and the Midlands as well as boost local economies and shorten journey times. But alongside the economic and timesaving benefits for motorists, the scheme is also a showcase of how other road users' needs can be met and leave a valuable legacy, thanks to a comprehensive customer-focused strategy.
The A14 stretches from the Port of Felixstowe in Suffolk to the M1 in Leicestershire. It serves a lot of transportation, including local traffic, and its connecting routes need to support those who don't use cars. Cambridge is known as England's cycling capital.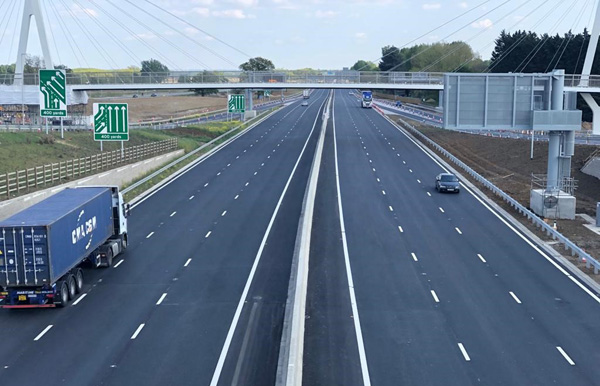 A 2018 Active Lives survey undertaken by Sports England revealed that one in three adults in Cambridge cycle five times a week.
It's a fact that where commuters have the option of a safe and practical alternative to driving to work, they will embrace it. Look at London's improved cycling network as another example; in 2019 cycling journeys in the capital increased by 5%.
Serving all road users
It's not just commuters who prefer two wheels; cycling for leisure, alongside walking and horse-riding are popular, healthy pursuits in this part of the world, so it's important that local routes serve those road users too, so anyone who wants to get out and about to exercise can do so safely.
While the main focus of the A14 upgrade scheme was to improve the route itself and connecting trunk roads, it was vital that its overall remit also served the full customer base – and this was key to driving through a customer strategy that enabled Atkins and our partners to deliver such a successful project.
Tom Rogers was deputy design lead on the scheme, and oversaw design development and technical compliance and safety, as well as coordinating the design team to resolve technical issues that arose during construction.
He says: 'The customer is one of Highways England's three imperatives; the other two being safety and delivery. We recognised from the start that the customer is not just the road user, but that a far broader context extended across various stakeholders; people who will touch the scheme or be influenced by it in one way or another. This included local residents, governing bodies, councils, businesses locally and nationally, and also pedestrians, cyclists, horse-riders and road users with disabilities.
'Safety is integral here too; making the road safer for all users has also been an important factor in the overall scheme. In my view, because of the provision for walkers, cyclists and horse-riders, this scheme is exceptional in terms of the legacy it leaves for outlying communities.'
Connecting communities
Understanding the needs of these different customers is complex, because of the wide range of perspectives they take, and the issues they fac. As Mr Rogers explains: 'Customer groups can be very emotive, because of the influence projects like the A14 will have on people's everyday lives.
'You can't just build a road and not consider how it interacts with routes connected to it, communities, villages and nearby towns. This was much bigger than delivering a road improvement scheme; other modes of transport had to be considered.'
In many ways the A14 looks and behaves like a motorway; it prohibits slow-moving vehicles, walkers and cyclists along its main route – but its signage is green, not blue. To fully support the scheme the overall project team constructed a new local road network to cater for all modes of traffic.
This includes two visually appealing, state-of-the-art cable-stayed feature bridges (one pictured above) that span the A14 at Swavesey and Bar Hill, to be used by walkers, cyclists and horse-riders.
Supporting sustainability
Developed by a number of partners in the overall scheme, the Bar Hill bridge has a total length of 141m, the Swavesey bridge a total length of 171m; these are significant structures that signify a positive shift towards government money being spent to support sustainable modes of transport – and both bridges have been warmly received by local residents.
On its website the Cambridge Cycling Campaign group states: 'The A14 has been a major barrier ever since it was built in the 1970s and the new bridge removes that barrier…Clearly the bridge is a success.
'Recently released traffic counts show that most existing cyclists have transferred to the new route, and many more cyclists – presumably people who used to drive – are now using the route. In addition, there are now pedestrians where few previously existed.'
The scheme has therefore provided a valuable opportunity to enhance and build new infrastructure for pedestrians, cyclists and equestrians as well as motorists; reconnecting pedestrian routes that were previously severed and constructing new high-standard facilities and crossing points along the route – and in doing so leaving a very positive legacy.
Mr Rogers says: 'The two bridges are a continuous reminder of the work undertaken to include pedestrian facilities in the scheme. They're also evidence of strong collaboration between a broad design team, from architects and engineers through to the construction team, and they demonstrate that investment can be made in improving facilities for all, and not just for people driving along the road.'
Added to which, as the UK moves towards achieving net zero CO2 by 2050, and greener forms of travel being a key factor in reaching this goal, these structures go some way to supporting a much more sustainable vision of the future.
The upgraded A14 – a road for all users:
some 21 miles of improvements to the A14 trunk road
approximately 24 miles of new pathway for cyclists, walkers and horse riders built
Two new feature bridges built for walkers, cyclists and horse-riders
re-linking of bridleways that were previously severed
extended cycle path from Girton into Cambridge
improvements to popular rural route on A1198
new pathways between Bar Hill and Longstanton, Wood Green and Godmanchester
improved connections between Longstanton and Northstowe