The Churchill Way flyovers in Liverpool city centre have closed after a routine inspection found several design and construction flaws, and could be set for demolition.
The closure will allow further intrusive inspections to take place into the flaws, which include issues around internal support, barriers, bearings and drainage.
The city's mayor, Joe Anderson is reported to have said: 'From what we have seen so far it seems likely that the structure will have to be taken down.'
The two-lane, concrete fly-overs were opened in 1970 as part of a £2.4m Mersey Tunnel relief scheme, and closed in both directions at 8pm on Friday, 28 September.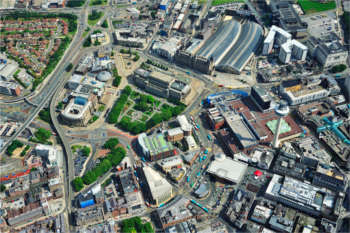 Following legislation on major highways structures a Post Tension Site Investigation (PTSI) began in 2016 to assess the northern and southern sections, both of which are more than 240 metres in length.
The flyovers, consisting of two separate roads linking Lime Street to Dale Street (south flyover) and Tithebarn Street (north flyover), run directly behind the city's museums and galleries in William Brown Street.
In a statement, Liverpool City Council said they have been under constant assessment since the 1980s when closed for repairs. There were further remedial works in 2005 and 2013 as part on an ongoing maintenance regime.
The council anticipates the new survey - which will include the removal of the road surface and drilling into the decks as well as underground assessments of every supporting column - to take at least six months to complete.
This estimated time period will be affected by the unusual fact that the fly-overs have no access chambers to allow such inspections.
Cllr James Noakes, Liverpool City Council's cabinet member for highways, said: 'The Churchill Way fly-over is a unique design and over time that has led to some unique challenges which the council has been monitoring for the past few decades.
'This most recent survey we commissioned has now revealed certain elements of the structure cannot be guaranteed as safe - which given its age and past history is not surprising - and with any risk we cannot take any chances.
'Now we need to establish the severity of that risk and the only right and proper thing to do is to close the structure to allow engineers to carry out more detailed inspections. This is a complex process requiring numerous tests along the entire span and added to the fact there are no access chambers to assist the engineers it will take at least six months to do.'
The diversion routes will be as follows:
• North Flyover - Traffic on Tithebarn Street will be directed to take a left on Vauxhall Road then right on to Leeds Street, then right on to Byrom Street and up Hunter Street to the junction with St Anne Street and into the city centre.
• South Flyover - Traffic on Lime Street will be directed to continue onto Commutation Row then left onto Islington, down on to Hunter Street then left onto Byrom Street into the city centre - where they can access lower Dale Street from the tunnel roundabout. Equally traffic on Hunter Street can continue north on the A59 and then take a left at Leeds Street to access the waterfront.
• The bus lane on St Johns Lane heading up to Lime Street station will also be suspended.
At this year's Bridges Scotland event there will be a session on issues around structural dangers and collapse. Sign up here to take part in Scotland's largest conference and exhibition dedicated to road, traffic, transport and bridge infrastructure.