York-based VALE Engineering has said it is 'taking the fight to the competition' with its largest ever tractor-towed salt spreader.
The firm said the TS6000's six cubic metre capacity hopper takes approximately 9000kg of salt, which is the same capacity as a traditional 18 tonne HGV gritter.
It said the kit could significantly reduce winter maintenance costs for local authorities, with a 79% saving on capital investment and a 54% saving on capital and operational costs combined.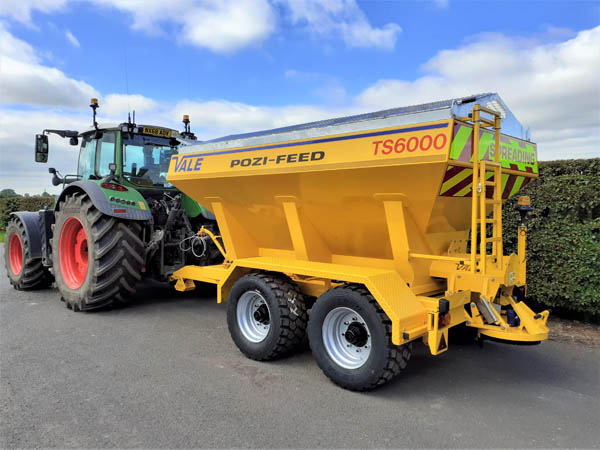 Managing director James Wilson said: 'With much lower capital expense and maintenance costs, we can demonstrate that this tractor-towed salt spreader provides a very cost-effective alternative to frontline 18 tonne HGV gritting vehicles used by local authorities and independent contractors responsible for the highways winter maintenance.'
Richard Marr, highways area manager at NYCC Highways, said: 'Utilising agricultural contractors and farmers is a very cost-effective method of increasing resilience without a large investment in capital equipment. We have found this method of service delivery very successful and effective.'
The firm pointed out that a legislation change in 2013 permitted agricultural vehicles towing salt spreaders to grit highways using lower-tax red diesel.
It acknowledged that the concept is not necessarily one for all locations, but said it could ease financial pressure on councils by utilising in-house grounds maintenance tractors and/or external agricultural contractors.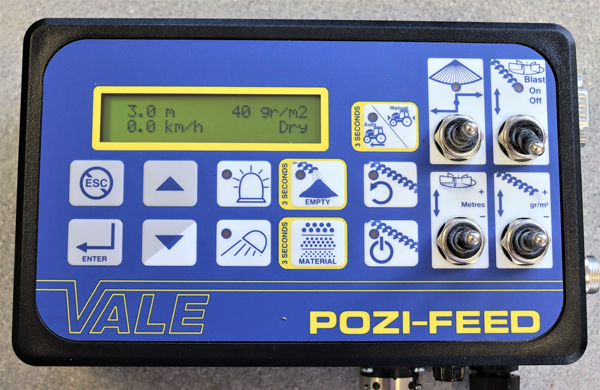 The T100 POZI-FEED Road Speed Related In-Cab Controller provides a range of functions
The firm added that salt spreaders and gritters can now be fitted with the type of sophisticated technology used on HGV gritters and have hydraulic power take-off (PTO) systems as standard, while tractors have universal mounting and towing brackets.
Tractors also have a heavy duty front axle, allowing them to be fitted with heavy duty snow ploughs. By contrast, many lorries need to have a PTO system retro-fitted.
VALE said that like all its other tractor-towed salt spreaders, the TS6000 is capable of spreading wet or dry, brown or white salt, via its POZI-FEED stainless steel auger system.
It is fitted with a high-speed agricultural axle and high speed wheels and tyres, braking by via S-cam brakes hydraulically or by optional air brakes.
The spreading circuit is hydraulically powered from the tractor's auxiliary hydraulic take off.