Eurovia's chief executive has joined calls for carbon modelling to be simplified as he warned against 'greenwashing' in the highways sector.
Scott Wardrop, who is also chief executive of Vinci Construction UK, told Traffex visitors that companies cutting their own carbon emissions is 'the easy bit' but what is known as Scope 3 – the emissions of their suppliers and the embedded carbon in their products - 'is not the easy bit and for me, it's an area where we've got to come together'.
He said he had heard experts talk about 34, 44 or even 46 different carbon models, adding: 'You don't need Heinz 57 carbon models. We should all come together and we should know what our emissions are. It's not a game between private or public sector; it's very much focused on the environment.'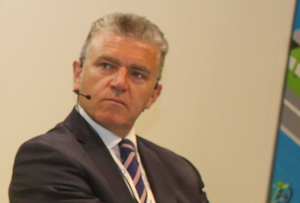 Mr Wardrop continued: 'I have a very strong belief that it's not an area where we should be greenwashing. We should be dealing with the issue; we should know what our emission factors are for our products and services and actually focus on our Scope 1, 2, plus a huge part of our emissions are Scope 3.
'You can't do it as one individual plant; you have to do it as UK plc in whatever the infrastructure, whether it's maintenance, whether it's new construction.
'There's a need for coming together. This decade is maybe the decade where maybe we will end the decade with one view of what the environment is, one way of calculating. I'd love to think it's much sooner than that.'
He concluded: 'It's not a game between individual companies or whatever. It's so, so important that we come together.'