Scott Wardrop is set to combine two chief executive roles, as he takes on a new role at Vinci.
Mr Wardrop (pictured) has been given the job of UK construction chief executive at Vinci, but he will also keep his current role as chief executive of the company's Eurovia UK business which he has led since 2007.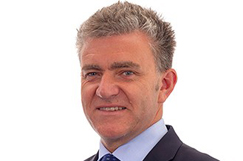 Jean-Philippe Loiseau, who was acting as chief operating officer of Vinci Construction UK, is reported to be returning to Paris to concentrate on the firm's French business.
Mr Wardrop will report to Gilles Godard, who remains CEO of Vinci operations in the UK.
A collection of senior figures - including Chris Hamer, managing director of Vinci's building business, Taylor Woodrow boss Julian Gatward and Tony Raikes, who heads up the firm's facilities business - will all report into Wardrop.
A company spokeswoman told Highways: 'We are pleased to confirm the appointment of Pierre Anjolras, Ludovic Demierre and Scott Wardrop as new directors of VINCI plc.
'These appointments strengthen the management of the VINCI Construction businesses in the UK, combining world class experience and knowledge of the UK market to deliver innovative, sustainable services for our clients and the local communities they serve in their respective markets in building, facilities management, and civil engineering.'