Rebrand for Clearview
01/04/2016
Clearview Traffic Group is rebranding as Clearview Intelligence to reflect the company's changing customer base.  

Clearview works with Amey in Scotland
06/01/2014
Clearview Traffic Group has been working in partnership with Amey to deliver the Traffic Scotland operations and infrastructure services contract (TSOISC) on behalf of Transport Scotland.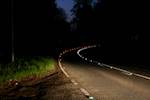 A4128 still the most improved road in the UK
19/11/2013
The A4128 in Buckinghamshire has once again been recognised as this year's most improved road in the UK, according to the 'Measuring to Manage' EuroRAP 2013 report produced by the Road Safety Foundation.
Clearview renews A1 traffic monitoring deal
17/04/2012
Clearview Traffic Group subsidiary Golden River Traffic has successfully renewed a long-term contract to maintain the road traffic monitoring system on the A1 Darrington to Dishforth DBFO project with Road Management Services Ltd.