Highways England is planning to adopt a full 10-year alliance model for its smart motorway programme, following a process of market engagement.
The plans, which aim to drive innovation and efficiency through increased standardisation, would involve a limited number of suppliers in a three-stage process covering design, off-site production and logistics, and on-site assembly.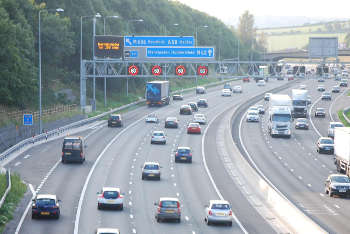 A spokesman for the government-owned company told Highways that its smart motorways programme lends itself to modularisation of products, with set designs for emergency areas and set distances between gantries.
It has been engaging with the markets 'for some time' under the smart motorways strand of its Routes to Market (RtM) programme, which will replace the Collaborative Delivery Framework.
Highways England announced in January that it would be engaging with its supply chain support the development of a new procurement model to deliver for Smart Motorways, 'drawing on an incentive-driven commercial model & maturing towards an integrated operating model'.
The spokesman told Highways: 'The intention is to adopt an alliance approach and we now have an idea of the direction of travel.'
However, he said that the 'nuts and bolts' of the new model had yet to be finalised and that further market engagement about the proposals was due in July. The expectation is that overall level of delivery will remain largely the same as at present but this is dependent on the the forthcoming settlement for the second Road Investment Strategy (RIS2) from 2020-25, meaning the total work could be worth around £6bn over 10 years.
Under the proposed model, there would be two design firms at the 'top table', using innovative digital design techniques, along with a central hub/logistics partner responsible for offsite manufacturing of modular products such as drainage.
There would then be three companies tasked with on-site assembly.
Although the contractors would mainly be Tier One companies, Highways England said there will be opportunities for smaller Tier Two companies, where it would engage with them directly 'to drive the innovation that comes from Tier Two'.
A 10-year framework would have a five-year break, between RIS2 and RIS3, and there would be flexibility to allow suppliers to leave or new suppliers to join.
The spokesman said: 'The whole idea is moving from a scheme by scheme approach to a programme, with all parties incentivised against budget.'