Professional services and engineering consultancy WSP has won the 2018 ITS World Congress Award for Best Action for Supporting Diversity in the ITS Workforce for its initiative to encourage and enable LGBT+ people to feel comfortable working in the sector.
It is the second time the company has been chosen by judges after it won the first award at the Bordeaux Congress in 2015.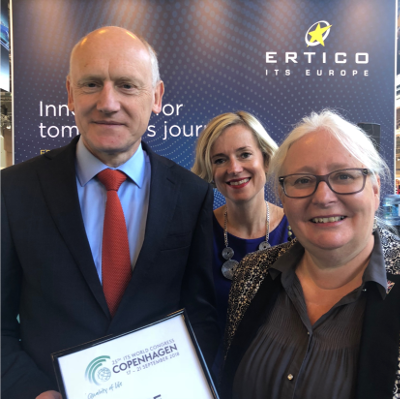 Set up in 2015, VIBE, which stands for Visibility and Inclusion in the Built Environment, is WSP's LGBT+ employee network which aims to support the day-to-day visibility and inclusion of the company's LGBT+ workforce and ensure everyone at WSP can 'be their best by being themselves'.
WSP is a member of the Stonewall Diversity Champions programme – Britain's leading best-practice employers' forum for sexual orientation and gender identity equality, diversity and inclusion.
It has run a Pride Matters video campaign profiling the diverse nature of its workforce as well as hosting a Diversity in Leadership seminar for clients and an 'Equali-Tea' networking event hearing from transgender leaders debunking myths and sharing tips. The company also has a clear 'Diversity in Leadership' policy for its business.
'It's not just the right thing to do,' said Ian Patey, WSP's UK head of profession for ITS, who became a VIBE ambassador in 2017. 'Diversity is critical in building the culture of innovation, engagement and performance that will help us deliver exceptional results for our clients, our employees, and the communities in which we operate.'
The award was judged by ITS professionals from around the world; Sharon Easley of e-squared in the US, Barry Pekilis of the National Research Council in Canada, ITS Australia CEO Susan Harris, Grace Ong of LTA Singapore, Maarja Rannama from ITS Estonia and Jeff Marengwa of the city of Hamburg.
Picture shows Ian Patey with Cordelia Wilson of ERTICO – ITS Europe and Jennie Martin of ITS (UK) at the presentation on the ERTICO stand at Congress.