Highways England's £1.5bn A14 project has discovered significant archaeological sites in Cambridgeshire.
The sites were uncovered as part of works to upgrade a 21-mile stretch of the A14 between Cambridge and Huntingdon, which have seen 350 hectares excavated, making the site one of the biggest archaeological projects to be undertaken in the UK.
The archaeological project, led by MOLA Headland Infrastructure, has uncovered information about how the land was used over a period of 6,000 years, with finds dating from the Neolithic, Bronze and Iron Ages, as well as Roman, Anglo-Saxon and Medieval periods.
The sites discovered include a Roman trade distribution centre, remains from buildings that help discern the layout of an entire six-hectare village, and three prehistoric henge monuments.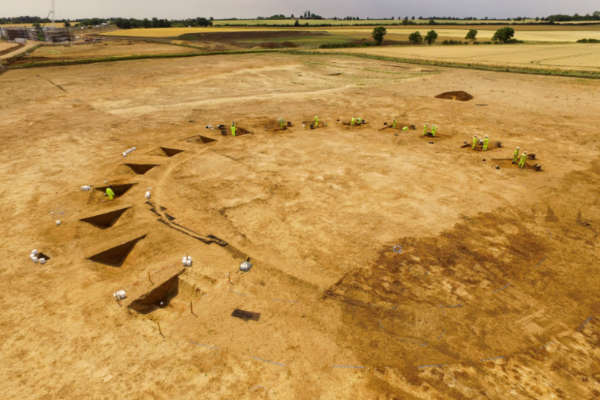 Kasia Gdaniec, Cambridgeshire County Council's senior archaeologist in the Historic Environment Team, said: 'The A14's Archaeology Programme has exposed an astonishing array of remarkable new sites that reveal the previously unknown character of ancient settlement across the western Cambridgeshire clay plain.
'No previous excavation had taken place in these areas, where only a few cropmarked sites indicated the presence of former settlements, but we now know that extensive, thriving long-lived villages were built during the Bronze Age, Iron Age, Roman and Saxon periods.'
Highways England is required by law to agree plans for how a scheme will deal with the effects it will have on its immediate environment, including any archaeological finds.
Dr Steve Sherlock, archaeology lead for the project for Highways England, explained: 'In the context of a project like the A14 Cambridge to Huntingdon improvements, that means undertaking archaeological excavations to ensure we record any significant remains that lie along the 21-mile route.
'The archive of finds, samples and original records will be stored so that the data and knowledge is preserved for this and future generations.'