The maintenance backlog for local roads in England and Wales has increased by 14% to £11.14bn up from £9.79bn last year, according to the leading survey in the sector.
The Annual Local Authority Road Maintenance (ALARM) survey estimates this is the one-time catch-up cost to get local roads, which make up 98% of the network, into a 'reasonable, steady state'.
This means highway authorities face an average carriageway maintenance bill of £85.4m each in England; £24.3m in London and £32.8m in Wales.
However, this does not include street lighting, bridges and many other aspects of highways engineering, which some say could treble the overall cost.
A smaller bite of a smaller slice of a smaller cake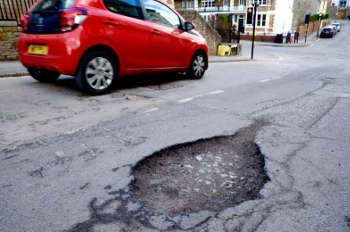 The fall in standards appears directly linked to decreasing in funding - with the average highway maintenance budgets down an almost identical 16% last year.
Funding per highway authority is now at £20.7m a year compared to £24.5m in 2018/2019.
The total shortfall in annual carriageway maintenance budget compared to what is needed is £826.6m (2018/19: £657.0m; 2017/18: £555.7m), an increase of 26% and the equivalent of a funding gap of £4.9m per authority.
The knock-on effects of these results include more potholes and a total of £22.8m spent by councils in dealing with compensation claims, including £8.1m paid out directly in compensation.
This year the survey found 7,240 fewer miles of roads reported to be in a 'good' structural condition, with 15 years or more of life remaining, and 1,100 more miles of roads classed as 'poor', with less than five years' life remaining, bringing the total in this category to 42,675 miles.
However, as highway authorities continue to deploy asset management and an increasingly preservative strategy, the survey also found 'a continued increase in the number classed as adequate, with between 5-15 years' life remaining'.
Now in its 25th year, the ALARM survey is carried out by the Asphalt Industry Alliance (AIA) and receives responses directly from local authorities - 67% of authorities responsible for local roads in England and Wales responded this year.
Rick Green, chair of the AIA, said: 'Highway departments have received a smaller share of the overall pot this year. Taking inflation into account, they are now at the same level they were 15 years ago, yet the network continues to age.
'And, it's a triple whammy for the road surface and structure. Carriageway maintenance has received a smaller bite, of a smaller slice, of a smaller cake, with authorities having to spend more money on other aspects of the asset, such as bridges, cycleways and drainage work to cope with the increased incidence of extreme weather events.
'Over the past 25 years, we have repeatedly seen this pattern of short-term cash injections to stem accelerating decline, only to be followed by further years of underfunding. This stop-start approach has been wasteful and does nothing to improve the condition of local road network on which we all rely. In fact, it has just contributed to a rising bill to put things right.'
Mr Green acknowledged that extra funding had been out into road maintenance at the Budget this month, but said even the £2.5bn extra over the next five years 'is a long way off' what is needed.
The AIA is calling for £1.5bn extra every year for 10 years to make up the shortfall.
He highlighted that once this backlog had been made up, the network could be maintained much more cost effectively going forward.
Funding shortfall
The shortfall in England has widened from £4.1m for each authority last year to £5.4m, a 32% jump between what local authorities have and what they need.
In London, the gap has closed slightly to £3.6m (2018/19: £4.0m; 2017/18: £3.0m), while in Wales, the average shortfall reported has increased dramatically to £4.2m per authority (2018/19: £2.8m; 2017/18: £3.1m).
The ALARM survey states: 'The real extent of the shortfall could be being masked by the fact that 44% of local authorities report transferring capital funds, intended for highway improvements, to supplement traditional revenue budgets for maintenance work.'
Carriageway spend
The percentage of the highway maintenance budget spent on the carriageway itself has dropped to 50% across the ALARM universe (2018/19: 55%; 2017/18: 56%).
Consequently, total carriageway maintenance expenditure across England and Wales in 2019/20 was around £1.77bn, (2018/19: £2.23bn; 2017/18: £2.04 billion).
The majority of local authorities (84% of responses) spent all of this, with 17% reporting an overspend (albeit down from 32% reported in ALARM 2019) due to a wide range of factors
Use of resources
Once a network is brought into good condition or can at least be managed at a steady state, councils can save money by transferring resources away from reactive maintenance.
Reactive maintenance is much more expensive than proactive surfacing and preservative treatments, which keep a whole road in good condition, as opposed to carrying out many patch and mend jobs on small defects and potholes.
The average proportion of the carriageway maintenance budget spent on reactive maintenance was 20% in England, 19% in London and 21% in Wales.
Only a 12% spend in reactive maintenance - i.e. not planned at the beginning of the year - is considered ideal.