The Scottish Government has hailed a shift in traffic from Aberdeen city to the new Aberdeen Western Peripheral Route (AWPR) since it fully opened in February.
Transport Scotland said 'around 50% of traffic' has shifted from the city onto the new road and that its initial monitoring also found that key journey times have been reduced by half through the 36-mile AWPR route between Stonehaven and south of Ellon.
The transport authority described the statistics as 'early snapshot data, which should only be viewed as indicative at this stage as a formal monitoring regime requires more time to report' while first minister Nicola Sturgeon (pictured) implicitly admitted that claims of improved air quality were speculative.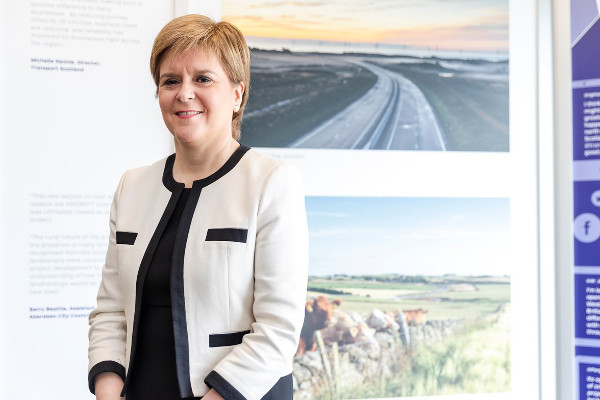 She said: 'As a result of the AWPR, vehicles that were previously sitting in nose-to-tail traffic and causing pollution have now shifted, leading to lower emissions in the city. This has the potential to improve air quality for around 75,000 homes and will improve the environment for pedestrians and cyclists in Aberdeen city.'
'The AWPR is also enhancing public transport connections by providing better local access and more reliable services, showing the immense transformation that infrastructure can bring to people's daily lives, the quality of their environment and the economy as a whole.'
Ms Sturgeon added that the road is already enhancing connectivity across the entire region, 'transforming journey times, reducing business costs and improving productivity and quality of life'.
Transport Scotland said its analysis shows Stonehaven to Dyce took an average of 47 minutes and 42 minutes during the morning and evening peaks respectively on the old A90 Anderson Drive. Both journeys now take 18 minutes via the AWPR.
Similarly Charleston to Dyce was an average journey of 33 minutes during the morning peak and 32 minutes during the evening peak. Now both journeys take 16 minutes via the AWPR, Transport Scotland said.