Aggregate Industries has pledged to make its low temperature SuperLow asphalt range carbon neutral through offsetting emissions.
All SuperLow products will now have carbon offsetting automatically included in the price, but Aggregate Industries receive zero profit from this.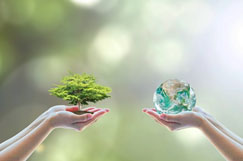 SuperLow is available in a wide range of asphalts and already features reduced carbon levels when compared to standard asphalt as it is manufactured at reduced temperatures.
The remaining emissions will be offset through carbon reduction projects with offsetting partner Circular Ecology.
Aggregate Industries' asphalts outside this range will not feature offsetting as the company said it wanted to 'ensure the embodied carbon levels are reduced as far as we can through manufacture before offsetting the remainder'.
With the warm mix requiring lower temperatures, SuperLow also cools to trafficking temperature quicker, meaning repairs and resurfacing take less time.
The cooler temperature also reduces binder ageing and enhances in-service life expectancy, Aggregate Industries said.
Chief executive officer Guy Edwards said: 'SuperLow is yet another step we are taking to supply more sustainable construction materials in order for the country to build greener.'
He added that Aggregate Industries was 'the first materials supplier to achieve PAS 2080 verification by demonstrating continuous improvement in reducing the whole life carbon emissions across the entirety of our operations and supply chain, and the recent launch of ECOPact [low carbon concrete]'.
Aggregate Industries managing director of asphalt Chris Hudson added: 'Our customers will not only benefit from the product's sustainability credentials and great performance, but also the same great service they have come to expect from Aggregate Industries over the years.'
The news comes after parent company LafargeHolcim signed a Net Zero Pledge.