PolyBitumens has taken delivery of the UK's first 'Road Legal' mobile storage tank for bitumen emulsions.
The new storage tank, which will allow bitumen emulsion to be stored at remote sites around the country, has been designed to a reduced width of 2.55m so it can be driven on the UK road network with no need for a restricted movement order.
Eurovia, which owns the new PolyBitumens plant in Thurrock, Essex, described the vehicle as part of a £750,000 investment and the first in the UK to have been IVA (Individual Vehicle Approval) approved.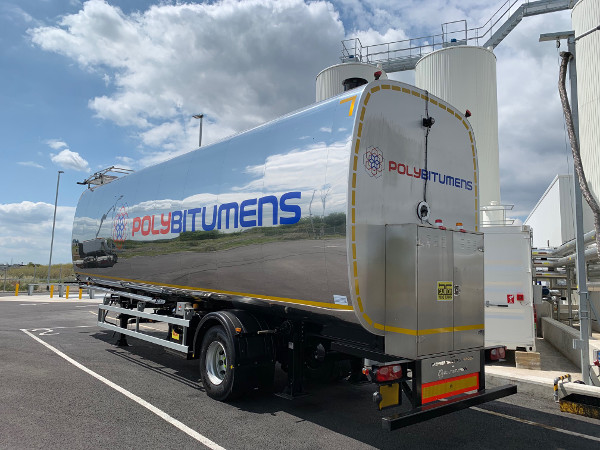 Paul Goosey, Eurovia production managing director, said: 'The Mobile Storage tanks represent a continued investment at our new PMB and emulsion facility and continues to develop our offerings to enhance our PolyBitumens fleet. This will support our emulsion and bitumen deliveries for our internal contracts and offer a function not currently provided elsewhere within the industry.
'Having the first road legal unit that can be easily manoeuvred around the country will allow our PolyBitumens and specialist businesses to remain agile and flexible to accommodate our service delivery requirements.'
The first purpose-built mobile storage tank was collected on last week and two further tanks will be completed and ready for collection this month, with further investments in units planned for later this year.
The new storage tanks, which can store up to 55,000 litres of emulsion per unit, will support Eurovia's treatments operations as well as other clients'.
They are also fitted with new technology that will allow the tracking of material volumes within the units, which can be monitored remotely from the PolyBitumens plant.
This will allow PolyBitumens to support and manage production and stock control more efficiently, as well as improving the scheduling of deliveries in future.